There's a real buzz about honeyberries in Scotland
March 07 , 2016
Editor's Choice
More News
Top Stories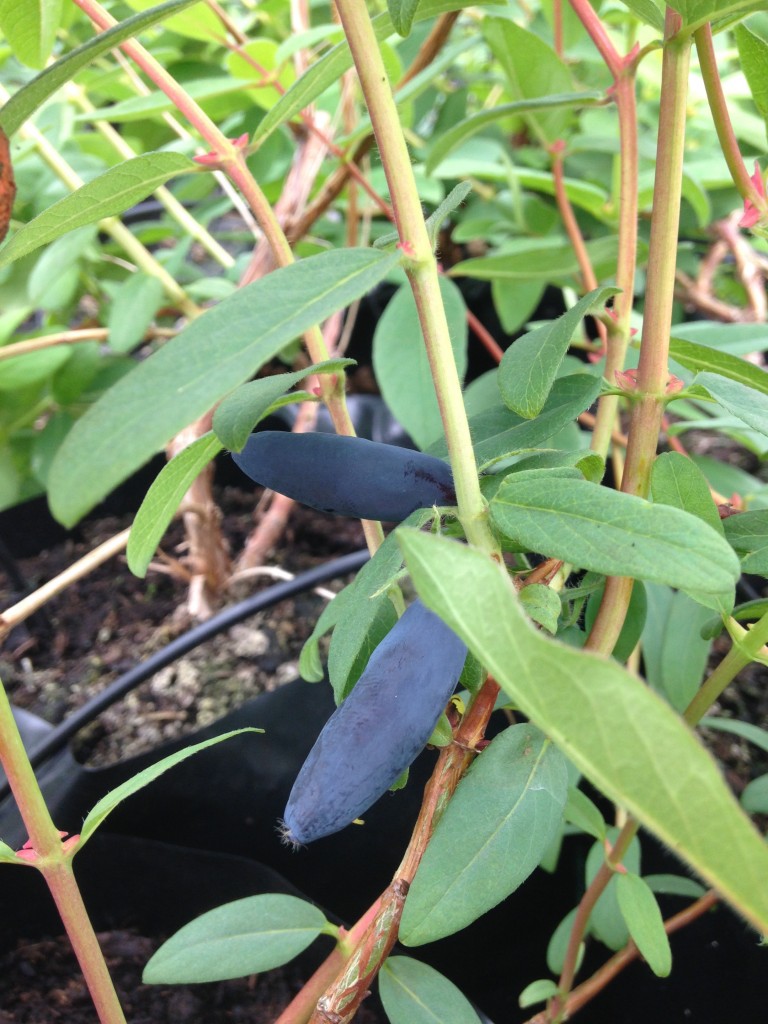 There's a new kid on the berry block with superfood qualities that are off the charts, according to one Scottish grower who wants to create a honeyberry industry across Northern Europe. Producer Stewart Arbuckle gives www.freshfruitportal.com the lowdown on the antioxidant-rich 'superberry' with heaps of 'add-on' appeal.
The Scottish soft fruit grower is searching for producers interested in planting the honeyberry and has a grand plan to increase production to 5,000 acres over the next 10 years.
He currently farms around 12 acres (five hectares) near Dundee, having first planted the crop two to three years ago. Since then yields have been steadily increasing and his team have been creating a portfolio of hybrid varieties with propagation continuing as part of a research and development program.
"We began planting a few years ago, but recently we did a presentation at the James Hutton Institute and we've been getting increased interest from consumers and growers about the honeyberry because it's a very interesting berry.
"We're traditionally soft fruit farmers growing strawberries, raspberries and blackberries under polytunnels but I was looking for a berry which ticked all of the boxes in the sense that we could grow at low-cost and there was potential for not just selling it as a commodity at the other end, but adding some value to it as well.
"Strawberries and raspberries have to be grown under polytunnels in order to compete. So I was excited when I found the honeyberry because it loves the cold, so Scotland is perfectly suited."
Having been grown in Siberia, Japan, Poland, and with the North American hub of production located in Nova Scotia, Arbuckle knew he had discovered a 'hardy berry' with big premium label potential.
"We've been taking all of these different varieties from around the world and breeding them together to create hybrids which are better tasting and better yielding, almost double in some cases.
"They also have a more upright growing habit which really helps with the machine harvest side of things because they are less labor intensive."
Having collaborated with Canadian growers over the last few years, Arbuckle's team are ready to introduce the honeyberry which is capable of withstanding sub-zero temperatures, has low-production costs and a high scoring nutritional characteristics.
"Instead of all that expensive infrastructure like polytunnels, irrigation and all the substrates, we can just put them in the soil outside and no infrastructure is required.
"It's low-cost and all your focus goes towards keeping a happy balanced soil to create a tasty as possible berry.
"We are encouraging more people to grow them this year, not just in Scotland but in the rest of the U.K. and Europe."
Although it's early days in terms of building a honeyberry industry, Arbuckle believes current and future demand will motivate more growers to diversify.
"What we are aware of is to build an industry in Scotland and in Europe, we need to get more people growing the honeyberry first of all.
"We've got the material for all of the new varieties of plants from North America and we're currently propagating those in Dundee to specific standards and we're looking for growers who are interested in taking this on throughout this year and next.
"It's looking very positive with quite a lot of interest already."
One of of the most striking aspects of the honeyberry is its blue color which runs throughout the fruit. The striking color, its high Brix level and health benefits have been the factors driving sales in North America.
"They taste great. It's a cross between a raspberry and a blueberry, others say perhaps a blackberry.. It has a deep and fruity taste with an added zing.
"It has a kind of blue waxy skin, like a blueberry, and you don't get many things in nature that grow naturally which are blue, and consumers these days are looking for something blue.
"They want a rainbow of color on their plates and blue is a color which is often lacking. When you bite into a blueberry the inside is clear, but when you bite into a honeyberry you'll see the inside is purple all the way through and that's the antioxidants which the honeyberry has in abundance."
Juices, jams and alcohol
Aside from the fresh category, the honeyberry has potential for jams, smoothies, wine gin and even beer.
"Some might say our 5,000 acres target is bit ambitious but essentially that comes from what's going on with blackcurrants at the moment because that's the production level in the U.K. right now.
"We see no reason why honeyberries can't do the same, being around the same cost to grow as blackcurrants, but with a lot more potential on the retail side and value added side.
"They create great juice, jam and world-class alcohol as well due to their tannin structure which means the fruit makes world-class wine and very good gin as well. There is also potential for ciders and beer."
Arbuckle believes that once enough producers get the honeyberry in their hands, all manner of niche markets can be developed.
There are several varieties ready to be distributed in the U.K. and Europe including Blue Moon, Blue Banana, Blue Treasure and Happy Giant.
"It's about seeing what they (growers) can do with it and then that will build upon future markets. It's very early days at the moment because we just don't have the quantity of berries yet to excite the retailers.
"The big potential is frozen for the mass market and there is a really big boom in smoothies at the moment, especially as the honeyberry is seedless.
"The honeyberry is super healthy with up to four times the antioxidants of a blueberry, more vitamin C than an orange, and there is a whole table of comparisons of micro nutrients where it ranks pretty high amongst almost of all of them. We can tap into the trends in the health market."
Subscribe to our newsletter