Q&A: SanLucar's multi-faceted approach to raising fruit consumption, standards
February 18 , 2016
More News
Most Read
Opinion
Today's Headline
Being on the move in new growing regions while maintaining strict quality and social standards does not make for easy business, and for Spanish company SanLucar it means production bottlenecks when clients are seeking greater volumes. But CFO Michael Brinkmann does see a healthy growth rate this year, which should be boosted in two to three years by increased plantings coming on-line. During Fruit Logistica earlier this month, www.freshfruitportal.com caught up with the executive to discuss a wide range of topics affecting his business and the industry at large.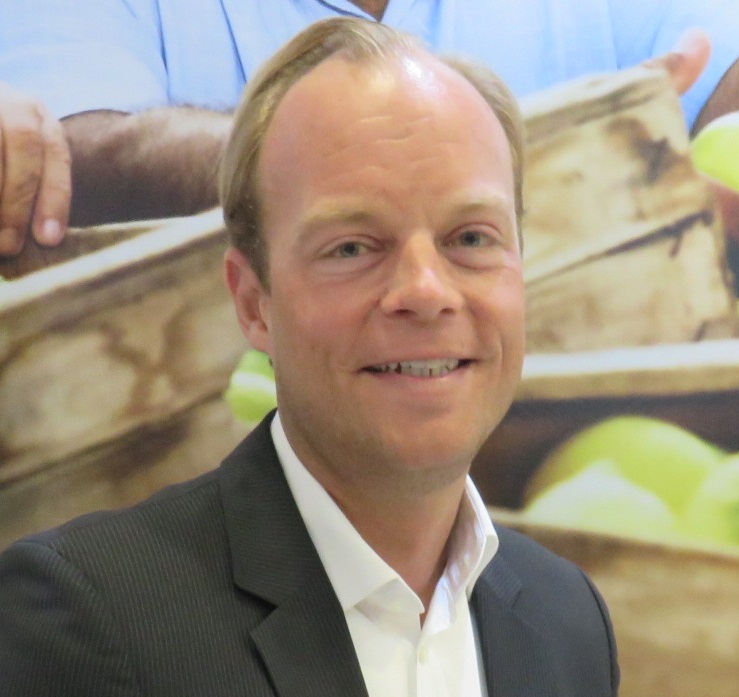 So what have been your impressions so far from the global industry here in Berlin?
Well it's hard to say because it's only been a day so far. There are a lot of people thinking about not the short-term future but the medium-to-long term future.
What I see if I look at clients' retail chains, they're moving more and more towards brands again. Last year there was a lot of own brands but there is this sense I have now - not necessarily from German clients but international clients - that they're proactively asking and trying to understand brand concepts and how they can use a brand to differentiate themselves.
Then on the supply side, it's people trying obviously to get out of the trading business where you're replaceable and trying to either find the right varieties and production windows, or trying to increase quality and taste standards to create something special.
This is something that obviously SanLucar is also about and people are trying to understand how we work, partner with us if possible, but we only have a selected number of partners.
What does this change in branding mentality mean for SanLucar?
For us it opens opportunities outside of our core markets Germany and Austria – there is a lot of demand coming from other markets. At the same time we know where we come from and we still want to put a lot of focus on Germany and Austria – this is where we've been the last 25 years – but there is still a lot of potential.
There is a lot of investment going on in those markets, and we work with our clients to see how we can improve and fine-tune their concept.
If we work together with shop owners, we help them to redesign the entire fruit and vegetable sections. We do studies of how the consumers move, how much time they spend, how often do they buy. Are they repeat customers? Do they buy the same product every week? And we try to design their fruit and vegetable section.
We are going quite nicely but the limit is still the bottleneck in production. Because we have our standards for the SanLucar brand and we don't have enough product for those standards, we can't take on more clients and ship more volumes.
So those standards are limiting your growth?
This year it'll be maybe 5-10% which we can grow naturally by volume and it can grow in the future. In the next two or three years a lot of the farms which we've planted will come into production, and that's where the volume growth might be bigger.
On the one hand you have bottlenecks, but at the same time you are expanding into new markets overseas. How does that work?
We've started with two major new regions this year, which are Asia – Hong Kong, China and Singapore – and the other one is the Gulf States - Saudi Arabia mainly and the United Arab Emirates.
So those four or five countries are where  we've initiated the first new client connections and we already ship now every week, but we're limited to smaller volumes to establish the cold chain, the logistics, and to understand our clients. We have to see whether we are accepted in those markets or not.
For example, in Germany people want the big bananas and that's why we source from Ecuador because they have the biggest banana production – but in China it's different; they would prefer smaller bananas. That's why on bananas for instance we've started with the baby bananas, which could be a nice concept for Asia – we started that about a year ago, and again, small volumes now but that's to sort of test the concept. That's from our own farm in Ecuador.
Are you planting more baby bananas on that farm?
We expanded a little bit. We've bought new farms next to our existing farm and integrated them.
And what else are you sending to Asian markets?
We do citrus - nadorcotts, clementines, oranges obviously. We also do grapes, bananas and a little bit of stonefruit. We send cherries to Asia; they're  a very important product in China with high prices – they pay a lot more than the European market. We export from our Turkish production in cherries.
The Turkish cherries were sent last year and this June we'll pick it up again. From bananas to Saudi Arabia we have a fixed program for the entire year, shipping every week.
Currently those are the products where we whet the appetite of the consumer in those market and see how it works.
Speaking of Turkey, what impact have you seen from the Russian ban on Turkish produce?
I haven't seen the effects yet of the Turkish ban in Europe, but it might still arrive. For us sales to Russia have decreased since last year. First we increased because the embargo helped us to ship from South Africa or Tunisia for instance, but not European product; now with the ruble depreciation, it got more difficult on the issue of exchange rates. We are still doing a nice amount of product to Russia, but we are approaching it carefully I would say.
In terms of Turkey, I still don't know what the impact of it is. Usually, having a brand and a different quality standard it doesn't affect us as much, because then when extra volume floods the market it comes in at the entry level – the demand-supply relationship at the entry market articles or discount, but not in branded goods.
In addition to some of these challenges, it's also been quite a strange year for weather, no matter where you are in the world. How has that affected your operations?
It's very difficult of course, and a product where you see it very strongly is in strawberries because they react a lot to the climate – Spanish strawberries had a very unusual peak production in December and January – a lot more than what we ever had in the last 10 years. This week there's a bit less because there is a mist in the field, and the fruit doesn't develop – in two weeks it's Valentine's Day and everybody is asking for fruit, and two weeks ago you had too much.
Now there's not a lot – there is 20-40% less because of a local weather pattern, but if you look at the whole season there is the peak in production which we had early in the season, and then towards the end of the Spanish strawberry season it will be difficult to have enough quantity.
If the local production in Germany comes early, then it might play very well, and if it comes late there might even be a gap towards the end of the Spanish season.
Also, we've done just last week a sort of test, and from Tunisia for example they have 1.5-2 degree more Brix due to the warmer weather.
Speaking more broadly about the sector, during the opening press conference for the event there was much talk about how awareness about the health benefits of fruit consumption was very high in Germany, yet consumption only rose by 0.1% last year. This is despite lower prices in the wake of the Russian ban. One nutritionist raised concerns that there was not enough availability or accessibility to produce items for the public. What is SanLucar's perspective on this, and what can the produce industry do to raise consumption?
I would probably say go back to explaining what fruits and vegetables are about. They did a lot on prices last but that doesn't necessarily raise consumption. To go and say we need to be cheaper and cheaper, and then people will buy more, if you spend 25 cents on an apple, that's not a lot of money. So if you make that five cents cheaper, will people buy more apples?
I personally don't think so. To take the subway here to the fair you could spend like five euros.
I think you need to go more to what's special about fruit – of course there are the vitamins, but there's a great taste. You can enjoy eating fruit. I am not even hungry but I am eating fruit because it's here.
How can we make an appealing and attractive product for the consumer, and that they know they are doing something good for their health. It's better than eating chocolate for sure, but the taste is not actually worse than eating chocolate – I think it's even better than eating chocolate.
Going in that direction, we're trying to do that by putting focus on kids, with education to see the nutritional period with theoretical aspects, but we also do practical activities through promotions with Disney. Last year we did some cooperation with them - the film Heidi was one and there's a new Ice Age movie coming. For Heidi, it was with the apples, to get kids to actually buy or ask their parents to buy fruits and vegetables.
That must be an expensive undertaking.
It's an effort to do it but I think it's worth the effort – the retailers get a lot more sales with these promotions, so for the clients it's great to have that product. It's good for the families and the kids because you get them to try.
And how does the educational part work?
The other part is we have cooperation with schools as well – we bring school kids to our farms with day excursions, and we have promotions where you win a trip to one of the farms, and at the end of that people know it's not just about the supermarket but there's actually a farm that produces it and they can go and feel it, see how it works.
We do that in the countries where we produce with a lot of focus. Take a country like Ecuador - nutrition-wise the people that work on the farms often eat the same thing every day : rice with corn and bananas. You have to explain to them that it's healthy to eat something else; more meat, other types of vegetables. On our farms we have cooks and a nutritional plan of how to cook and how to make something different every day, with the right balance of minerals, instead of a mono-diet, day in, day out.
It's not so expensive to have a change in your diet. This is what we're trying to show people, and give them the opportunity to actually do it. We can organize it for them.
In Europe we connect the idea with sports, especially in Germany, Austria and Spain. We sponsor the main marathon in Vienna.  I personally run a lot and it's usually what the runners eat, a banana or something. There is a natural connection between what we do and a healthy life.
On the social side of things, you've also just released your corporate social responsibility report. Can you tell us more about that?
For us it's part of our DNA, or genes, that we do things as good as we can so that we can be proud of the way we do business. This starts in production and obviously goes through the entire chain – we've defined objectives of what we want to achieve by 2020, in terms of transport companies have less packaging, less plastic use, and a lot of it is in production to see how can we get to zero residues, zero chemical applications.
One part is with nature. We do a lot with water consumption – we've done a big water installation in Tunisia to recover rainwater, to clean it and use it for our farms, recycle it and give it to the community, to spread the water cycle.
In Germany, in our cooling center we've changed all the lighting to LED lighting, and that's like 61 tons of CO2 that we reduce, which is the equivalent of 5,000 trees. It's less costly, now you have the investment, but it's good for sustainability.
It goes with helping to educate and further the dreams of people working on our farms. On every farm we have a person who is CR responsible, and they assess what the communities need; for some it's helping them to establish their own business, for others it's education, for example in informatics so they can apply for office jobs. Every country is different, every community is different, so we try to assess what are these different needs and what is it we can do.
Finally, what are your planting plans for 2016?
We've just invested more in South Africa in citrus – three months ago we purchased a farm which was planted with nothing basically, and in the last three months we've planted the trees. The other major production area will be in Tunisia where we will plant grapes and we'll also do more on berries. We've done mostly raspberries so far in Tunisia, but we've run test blocks on strawberries and blueberries, so we'll expand to do strawberries and blueberries in Tunisia.
Apart from that, we continually expand our testing arrangements and our selection of varieties on different farms. We test new citrus varieties, new strawberry varieties, and see how they turn out on different fields.
Subscribe to our newsletter