USDA estimates all citrus categories down for 2022-23
A recent report by the USDA is estimating that global citrus production will decrease in 2023.
Orange production is estimated 5% lower to 47.5 million tons as lower yields in the European Union and the U.S. is only partially offset by a larger crop in Egypt.
The advance of citrus greening disease in large growing regions, along with high winds from hurricanes, have severely impacted cultivars in Florida.
Regarding lemons and limes, global production is forecast down 7% to 9.3 million tons with lower production in Argentina, Mexico, and Turkey due to unfavorable weather and higher input costs.
---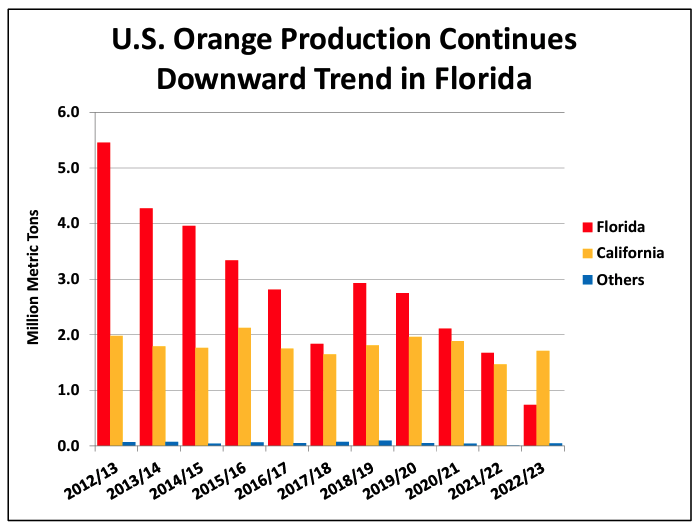 ---
Consequently, U.S. production is forecast to drop 697,000 tons to 2.5 million, the lowest in over 56 years.
The world production for tangerines and mandarins is also forecast down 1.2 million tons, to 36.6 million tons. 
This comes as expected declines in China, Morocco, and Turkey set in due to unfavorable weather.
Exports for this particular product are also forecast down with a near 50% decline in exports from Morocco due to the drop in production.
"Consumption is forecast lower after peaking in 2020-21 and 2021-22 when health-conscious consumers sought natural sources of vitamin C," the report said.
As for grapefruit, Global production in 2022/23 is estimated down 2% to 6.8 million tons due to unfavorable weather and reduced production in China, Mexico, Turkey, and the United States. 
Consumption and fruit for processing are also down with the lower supplies, while exports are expected to be flat. 
Subscribe to our newsletter