U.S.: Hurricane Matthew upgraded to Category 4
October 06 , 2016
Editor's Choice
More News
Most Read
Today's Headline
The U.S. National Hurricane Center (NHC) has issued a new warning about the "extremely dangerous Hurricane Matthew heading for Florida", which has been upgraded from Category 3 to 4.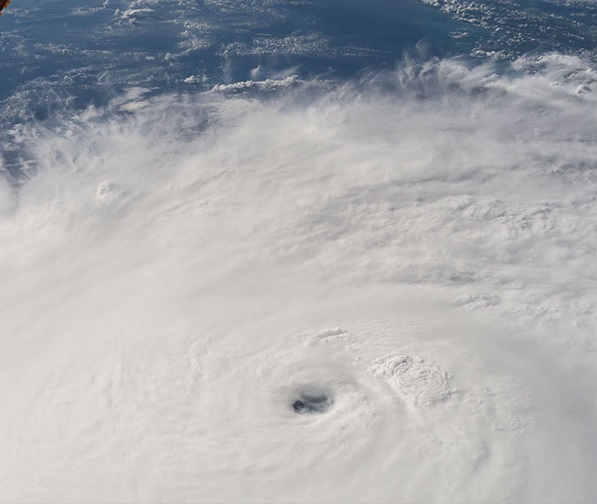 The hurricane has most recently plowed through the Bahamas and is set to hit the Florida coast tonight.
The upgrade is based on reports from an Air Force plane which indicate maximum sustained winds of nearly 140mph (220 km/h) with higher gusts.
"Matthew is a category 4 hurricane on the Saffir-Simpson Hurricane Wind Scale," the NHC reported.
"Some additional strengthening is possible, and Matthew should remain a Category 4 hurricane while it approaches the Florida coast."
Authorities have urged more than two million people to leave their homes in coastal Florida, Georgia and South Carolina - the largest mandatory evacuations in the U.S. since Hurricane Sandy in 2012, according to CNN.
Haitian authorities have reported the death toll has risen to more than 300 in the Caribbean country, the BBC reported.
The NHC has said there could be extensive potential impacts from the storm, including considerable roof damage to sturdy buildings with some having window, door and garage door failures, while damage could be accentuated by airborne projectiles.
"Locations may be uninhabitable for weeks," the center said.
The NHC also warned of potential for large trees being snapped, impassable roads from large debris, and impassable bridges, causeways and access routes.
Large areas could end up with power and communications outages, while some windows may be shattered by flying debris, the center said, particularly in high-rise buildings or those with windows that are not impact resistant.
"Hurricane conditions are expected to first reach the hurricane warning area in Florida by late today and will spread northward within the warning area through Friday. Tropical storm conditions are first expected in Florida within the next several hours.
"Hurricane conditions are possible in the hurricane watch area in northeast Georgia and South Carolina by early Saturday, with tropical storm conditions possible on Friday night.
"Winds increase rapidly in elevation in a tropical cyclone. Residents in high-rise buildings should be aware that the winds at the top of a 30-story building will be, on average, about one Saffir-Simpson category higher than the winds near the surface."
Meanwhile, a representative of tropical fruit importer and distributor Ecoripe told www.freshfruitportal.com the offices were closed today, adding that would likely be the case for the majority of produce companies in the state.
"We're hoping to reopen tomorrow, but that depends on the hurricane," vice president of business development Mark Holbik said.
He said the hurricane had already affected Ecoripe's operations.
"The ports are closed and we are not receiving any of our imported product today. The USDA [United States Department of Agriculture] and FDA [Food and Drug Administration] are closed today, so all imports are on a standstill," he said.
He said while there was a chance the storm could cause power outages that may affect fruit in cold storage, he was 'confident' Ecoripe would be unaffected due to its location in the south of the state.
"We believe the hurricane is hitting a little bit further north than Miami and so we're hoping to have continuous electrical service," he said.
"Fresh Summit is on", says PMA
The disaster is happening within a very close window before the annual trade fair Fresh Summit organized by the Produce Marketing Association (PMA), which this year is due to take place in Orlando on Oct. 14-16.
"Regarding Hurricane Matthew, our first concern is for the safety of the residents and our members in Florida. Also at the top of our list is concern for the attendees, exhibitors, vendors, staff, and everyone who is part of Fresh Summit," the PMA said in an email to exhibitors.
"We are continually monitoring the progress of the hurricane.  We know that there will be some disruptions, especially in transportation over the next few days, and many of you have your trucks en route.
"We are talking with GES and the other vendors to be sure we have the capabilities, including labor, to get your shipments in and exhibits set up with as little disruption as possible."
The GES Orlando Warehouse is set to close at 2pm today and will be closed tomorrow as well before opening for the weekend, according to briefs sent by GES to the PMA.
There will be no overtime charges for GES to receive shipments on Saturday and Sunday.
Related story: U.S.: Florida's fruit importers brace for Hurricane Matthew
Subscribe to our newsletter