Fruit Logistica announces nominees for 2017 Innovation Award
The produce industry will soon have a chance to vote on what it considers to be the sector's most groundbreaking product, as companies from five European countries vie for the Fruit Logistica Innovation Award (FLIA) 2017.
The major award is considered to be representative of key industry trends, and the winner is set to be announced on the final day of the exhibition at an award ceremony. This year it was Spain's Genuine Coconut, and in 2015 it was the Israeli 'Aurora' papaya.
"The FRUIT LOGISTICA Innovation Award is the most important award of its kind in the international fresh fruit and vegetable sector. The 2017 award will be presented in February in Berlin for the dozenth time," says a statement on the event's website.
These are the 10 finalists, who were chosen by a panel of experts.
"BE-Cube Demountable Palletbox System" - Beekenkamp Verpakkingen B.V., Netherlands
A demountable pallet box system that weighs less than comparable plastic and wooden pallet boxes, but its specially developed construction makes it just as strong.
"Crisp Fresh Watermelon" - Syngenta, France
Fresh-cut watermelon sticks that come as the result of a 'unique research program'. They leave little waste at the factory and shed little liquid into the pack, while remaining juicy and well-colored for consumers.
"Knox™– Delayed pinking in fresh cut lettuce" - Rijk Zwaan Zaadteelt en Zaadhandel BV, Netherlands
The result of 10 years of development, the Knox lettuce can extend shelf life by around two days due to delayed pinking, thus contributing to better inventory management for retailers and reducing their waste.
"Mango Peeler & De-Cheeker" - ZTI Smart Machines, Netherlands
The Mango Peeler-de-Cheeker peels the mango and removes the 'cheeks' in a single operation. Once the fruit has been positioned the machine takes the mango by the stone, releasing it only when the cheeks have been removed.
"Natupol Excel – Bumble Bee Vision" - Koppert Biological Systems, Netherlands
The 'bee vision' features on the new range of Koppert hives have been designed to help bumblebees navigate in other unfavourable conditions, which can cause orientation problems.
"SoFruBox System" - SoFruPak, Poland
The SoFruBox System is described as an efficient way to cool fruit. The design offers low cooling resistance and the recyclable boxes can be folded flat for ease of transportation and storagean .
"Streamer Automatic Spiralizer" - Turatti srl, Italy
Turatti has developed a system to turn vegetables and hard fruits into new healthy nutritious vegetarian products. The Model Streamer is designed to automatically obtain a wide range of spiralized products, with different shapes and sizes.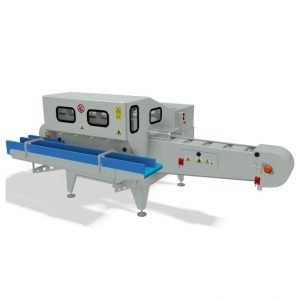 "Sustainable Grow Bag for Tasty Tomatoes" - Greenyard Horticulture Belgium, Belgium
A fully compostable growbag filled with 100% organic substrate for the cultivation of greenhouse vegetables such as tomatoes and other products.
"The Cracking Monkey –Pili Nuts" - Die Frischebox GmbH, Germany
A pre-germinated nut from the Philippines with high levels of Vitamin E, pre-scored for easy opening with the special stainless steel cracker and sold in environmentally friendly cotton bags.
"yello – The Color of Taste" - VI.P / VOG, Italy
A sweet and crunchy yellow apple variety of Shinano Gold, a Japanese cross between Golden Delicious and Senshu.
Subscribe to our newsletter