"Immobilizing pests", ICB Pharma bio-tech to go global
March 06 , 2017
Copyright
Editor's Choice
More News
Today's Headline
Steeped in a family line descending from one of the fathers of modern thermochemistry, the Polish company's biological products are on-trend and have proven a hit with growers.
Co-founded by the grandson of Polish chemist and Nobel Prize nominee Wojciech Swiętosławski, ICB Pharma has come a long way since its origins in the 1990s applying double-wall microencapsulation to the pest control innovation space.
Since then, aside from its development in the health sector, the group has gained a significant market presence amongst Polish growers with its natural solutions to common pest problems, as well as its bee attractants that improve pollination.
The most iconic is perhaps Siltac, which creates a three-dimensional polymeric net around pests that blocks their bodily functions and thus rapidly eliminates insects and mites feeding on plants.
"This is a physical mode of insecticide. It doesn't contain any active ingredients of chemical pesticide," ICB Pharma head of crop solutions Wojciech Wieczorek told Fresh Fruit Portal during industry trade fair Fruit Logistica in Berlin last month.
"It works not as a toxicant but it works in a physical way - the product is based on long chain polymeric compounds that after application creates a polymeric structure of pest bodies, and immobilizes the pests.
"This very fast immobilization leads to the very fast death of pests, so it works very effectively. And because it works very effectively, it doesn't generate any residues because it doesn't contain any active ingredients of pesticides."
Wieczorek said the product had the added benefit that in the absence of chemical pesticides, it didn't generate any kind of resistance to crop solutions in the pests themselves.
"Because of these reasons, the product is very popular in many countries - it's in Poland, and in some other countries we are introducing the product," he said.
"Siltac was introduced to the Polish market three years ago and right now it is one of the most popular products dedicated for control of small pests like aphids, spider mites, white flies and psyllids.
He said the product had been used in many fruit crops, especially on berry farms.
"Poland is very famous for berry production. We are very strong in raspberries, blackcurrants and blueberries, and in these crops there are many problems with small pests because of many reasons.

"It is not easy to control these small pests in berries because we have a very limited number of conventional pesticides, and the topical problem with these small pests is just before harvest time you can't use any chemicals.
"In this case, it's [Siltac] in fact the only solution, because you can use it just before harvest time so there's no concern about residues."
He says the plan is to take Siltac and other ICB Pharma products worldwide, hence its second participation in Fruit Logistica.
"Right now we are in a few countries in Europe with our product. We are developing our business in the U.S., in Central America, in the Arabian countries, and right now we are introducing the product in Africa.
"In Africa there is really a big problem with spider mite because the climate conditions promote the development of many pests, especially spider mites.
"It is our philosophy of our company to be everywhere with our innovative solutions, because we are a research and development company. We are developing our own technology, our own ideas."
Catching Drosophila
ICB's Drosinal traps have also demonstrate good results in integrated crop protection programs to mitigate one of the most damaging pests in berries and cherries, the Spotted Wing Drosophila (Drosophila suzukii).
"The problem with Drosophila suzukii is very serious because it attacks fruits just during the harvest, so you have very limited possibilities to use chemicals against this pest," Wieczorek said.
"That is why, in order to control the pest, you need to use some alternative methods. The best way is to use at the same time several methods, and this way you can achieve really good results.
"One of the methods is mass trapping for the reduction of the population of Drosophila suzukii, and you can use it by creating the barrier around the field."
He recommended using 200 traps per hectare to create this barrier, preventing the insects from entering the field.
"In the trap there is a liquid lure. It is based on food grade ingredients; no pheromones, no insecticides, it is a mixture...a blend of several food grade compounds but we've proven a very high attractiveness to Drosophila suzukii.
"It's not just the lure that attracts Drosophila suzukii, but the colors are also very attractive with the bright fluoro yellow and the red. The flies come into the trap and are drowned so they have no chance to escape.
"It is sold in Poland and also in France but we are going to sell it also in some other European countries because in Western Europe there is really a serious problem with Drosophila suzukii. I have that in some cases this drosophila can lead to 100% losses of the harvest."
Bee healthy
There are few topics in agriculture that provoke as much heated discussion as bees, whether it be over declining populations or the impacts of pesticides on these vital pollinators.
But it is not just bee protection that is important to farmers. Some crops have a particular difficulty in attracting pollinators, especially when they are under some sort of protective cover.
This is where ICB Pharma's Biopolin steps in.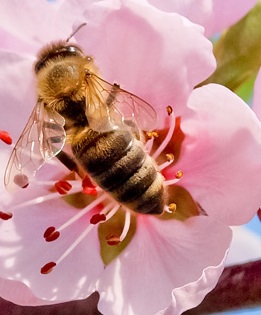 "Biopolin is a honeybee attractant so it attracts pollinators, mainly honeybees, to flowers," Wieczorek said.
"This way we can increase the number of pollinators and pollinator activity on flowers, and if we can improve the pollination we can be sure that our yield will be better; greater in quality and quantity.
"The Biopolin is recommended for the crops that have problems in pollination. In Poland the problem with pollination we have in pears – that is why, after using biopolin we have really bigger yields in comparison to the untreated trees."
The next step is to enter the kiwifruit sector, and Wieczorek said he was interested in making contact with New Zealand growers to test the pollen's efficacy under their conditions.
"I know that in kiwifruit there are many problems with pollination in fruit set and developing good fruits, and I think that bio-pollination could be a good solution for kiwifruit," he concludes.
This story is exclusive to
Fresh Fruit Portal
. If you would like to reproduce any elements of it on other sites or publications, please make a request to our editorial team at
news@freshfruitportal.com
Subscribe to our newsletter