Commercial expansion of Peruvian blueberries has boosted its export volumes
April 27 , 2023
More News
Today's Headline
Top Stories
Since November 2016, Peru has added eight new countries to its list of blueberry importers. This expansion has allowed for a 20-fold increase in the volume of blueberry exports, reaching 31 countries in the 2022-23 season.
Peru closed this past season with a production of more than 280,000 tons of blueberries. For the 2023-24 season, the country forecast over 330,000 tons.
Luis Miguel Vegas, General Manager of Proarandanos presented some of the country's achievements during a presentation at the 2023 South American Blueberry Convention held in Chile on April 18.
"Apart from opening new markets, we must work on improving access in markets where we already have export permits," said Vegas. "For example, we got authorization to use pallet bags in the U.S., and we are working on getting the permit for air shipments to Malaysia, authorization for cold treatment at origin in a container for Taiwan, authorization for cold treatment during transit for Israel, among others."
The United States remains as the main market for Peruvian blueberries, with more than 152,000 tons exported in the 2022-23 season, around 53% of the total volume exported.
The Netherlands is second on the list with almost 65,000 tons during the same period, followed by China with 13% of the total volume exported (37,000 tons).
Seasonality of Peruvian blueberries
"Between August and December of 2022, 86% of the total volume for the season was exported. Actually, in September and October alone, 52% of the total volume exported by Peru was sent to the different markets," said Vegas.
When looking at specific markets, at the beginning of the season, between May and August, China imported 32% of its total volume for the season, while the U.S. only had 19%.
Towards the end of the season, between December and February China imports only 9% of its total volume for the season.
During the strongest months of Sep. and Oct., the main markets for Peruvian blueberries imports between 44% and 57% of their total import volumes.
Expansion of planted hectares
Part of the reason that Peru has been able to grow its blueberry production at such staggering rates is because of the expansion of new and existing producing regions.
According to data provided by phytosanitary watchdog Senasa, in 2016, Peru only had 1,923 hectares of blueberry plants. By 2020, that number had grown to 18,614.
Ninety percent of production used to be concentrated in the region of La Libertad, however, nowadays, the region only accounts for 25%, as other regions like Lambayeque, Ica, and Lima have increased their volumes considerably as shown in the image below provided by Senasa.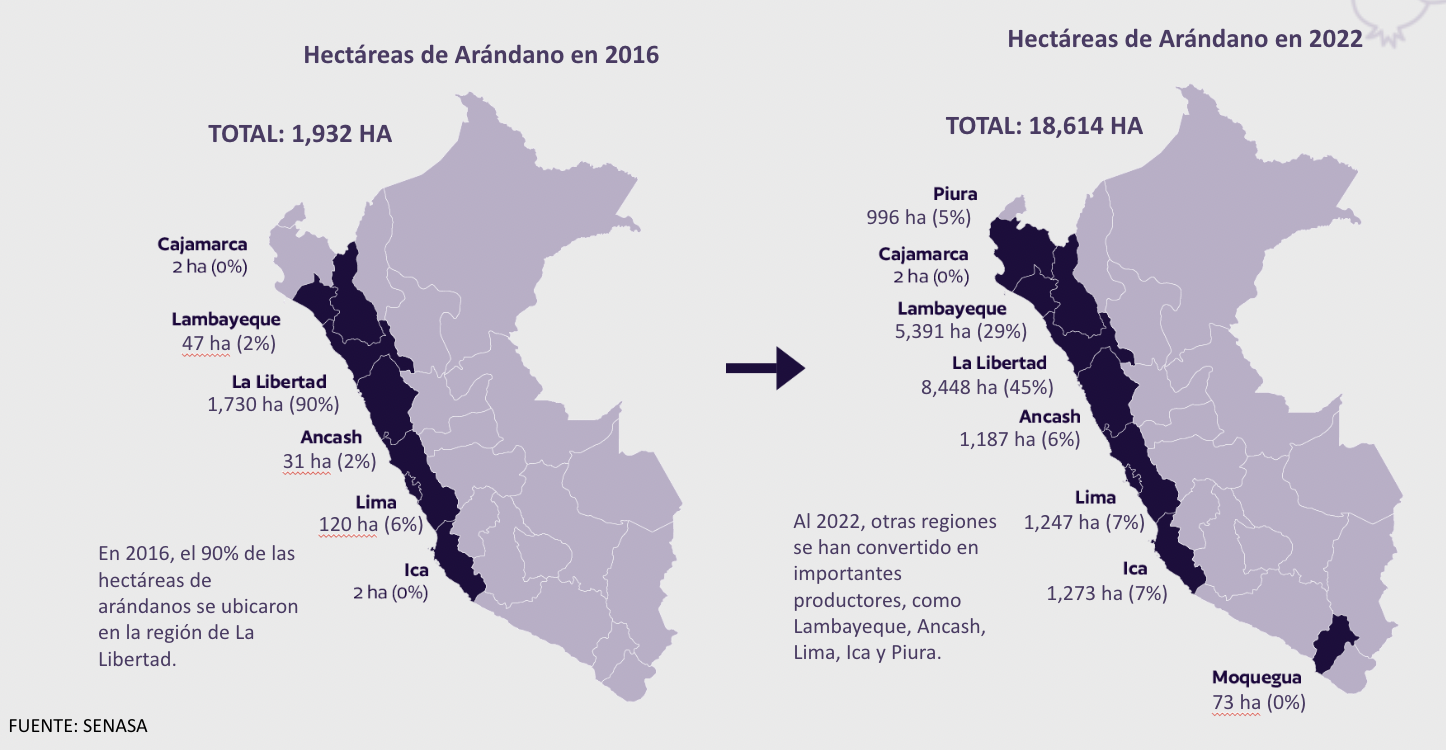 New varieties
Another important factor in Peru's rise in blueberry volumes is the evolution of new varieties since 2016.
"Seven years ago, we registered only 13 varieties of blueberries with Biloxi representing almost 60% of all crops in the country. By the end of 2022, we registered 65 varieties of blueberries, with a drop in the share of Biloxi to 25% participation, being surpassed by Ventura with 32%," explained Vegas.
The country has added nearly 3,000 new hectares of blueberry crops per year since 2016.
"We need to keep investing in new varieties because it favors both the consumers and producers. On one hand, it provides a better, higher quality fruit, and for producers, it increases productivity and allows the country to diversify its market and stop being so dependent on the U.S. market right now more than half of our volume depends on that country," concluded Vegas.
Subscribe to our newsletter