U.S.: California evaluates blueberry freeze damage
March 07 , 2018
Editor's Choice
More News
Top Stories
California's blueberry crop has suffered damage from a recent spell of cold weather that came on the back of unusually warm temperatures earlier this year.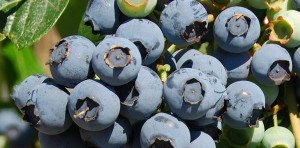 California Blueberry Commission executive director Alexander Ott told Fresh Fruit Portal that the last couple of weeks have been "very challenging" for growers.
"We had an early spring - a lot of warm weather that came through at the tail end of January and the first part of February," he said.
"But then in the last couple of weeks unfortunately we had some temperatures as low as 19ºF (-7ºC) in some low parts, so there was definitely some freeze damage that occurred.
"We're still trying to gather information as to the extent of the damage as it's still a little early, but we did have a lot of folks report 26ºF (-3ºC) for six to 10 hours."
He explained the cold temperatures had been felt state-wide - as far south as San Diego and as far north as Yuba.
Early varieties would likely feel a pinch as many plants were already flowering or with fruit, he added.
"We actually started picking some berries this week. Folks that had berries that were under tents or hoop houses will probably not see as much damage as those that were pretty much exposed, but we probably won't get into the swing of full harvest until April or May," Ott said.
He explained the commission would take part in conference calls over the next couple of weeks to ascertain the damage and evaluate which varieties were most affected.
Other major California crops including citrus, stonefruit and tree nuts were also hit by the freeze.
Ott said he had good expectations for the upcoming season in spite of these weather issues, adding that the industry would have to wait and see how prices play out.
"But there's no doubt that there's definitely a lot of production," he said.
California blueberry volumes have increased from around 29 million pounds a decade ago to around 61 million pounds last season, according to Ott.
Organic blueberry production alone increased by half to more than 12 million pounds last year alone, he added.
Subscribe to our newsletter