U.S.: Wonderful Company sees sky-high growth as strategy pays off
April 16 , 2018
Editor's Choice
More News
Today's Headline
California-based Wonderful Company is reaping the benefits of significant marketing investments made over recent years, with impressive growth experienced across all its produce brands.
With some 130,000 farmed acres, Wonderful is one of the largest agricultural companies in North America. It owns many household brands including Halos mandarins, Wonderful Pistachios and POM Wonderful pomegranate juice.
It is also the biggest lemon grower in the country, the largest lime supplier, and owns numerous other businesses including a pollination company, Fiji Water and Justin Vineyards and Winery.
In 2015, the organization rebranded as the Wonderful Company to unify its various product lines under one name and to help consumers more easily connect its different brands together.
At a recent media tour of its production and processing facilities near Bakersfield, the company's vice president of marketing, Adam Cooper, explained some of the strategies Wonderful has used to achieve double-digit sales growth.
Data from market research entity IRI shows that in 2017 Wonderful was the second-biggest U.S. company in terms of packaged produce sales. Its year-on-year growth of 11.7% to US$1.49 billion was shown to be higher than other major fruit and vegetable companies including Driscoll's - which led in total sales - and Dole.
A key strategy that has been driving growth has been heavy investments in consumer insights and research - an area in which Wonderful has spent in the region of US$100 million over the last decade.
One aspect this research has highlighted is that the majority of people both think they can be healthier and wish that healthy snacks were easier to find. There has also been a significant change in eating habits, with the average person now eating snacks roughly as much as they do regular meals.
At Wonderful Pistachios & Almonds headquarters, Cooper explained to the journalists in attendance it was crucial that retailers adapt to this changing scenario and merchandise stores "the way that people actually eat."
Wonderful has been working with retailers to push this idea as much as possible.
"We should have healthy snacking centers that produce is the owner of in every store in the country. Yet we still have these gondola tables of apples, citrus and berries spread out," Cooper said.
"We not merchandising ourselves how people are eating. I think that's a missed opportunity, but we're trying to drive that change."
Cross-merchandising is another key aspect driving produce sales, he said.
Some retailers have now started displaying the Halo mandarins in Wonderful's fun tractor and tree displays in unexpected areas of stores, including the frozen food aisle, the pharmacy, and the checkout.
By putting Halo trees near to checkouts, Cooper said there has been a four-fold increase in sales.
"A lot of the European retailers have moved in this direction, where they've either eliminated altogether the unhealthy snacks at checkout or they've at least created options," Cooper said.
Cooper also highlighted the need to change consumer perceptions about bagged produce. He explained the belief that it is of lower quality than lose fruit no longer holds true, adding that the bags provide space on which to communicate messages about the product.
This ties into another growth-driver in produce - branding. Cooper explained that between 2012 and 2016, branded products saw 12% average annual dollar growth, compared to 8% for private label and just 1% for unbranded.
"For the first-time-ever unbranded was under 50% [of the produce share]," he said.
He said that when the growth of the produce category - from US$56 billion to US$69 billion over the four years - was taken into account, branded produce actually accounted for 71% of growth.
Wonderful is in a good position to take advantage of this trend, having invested around one billion dollars in marketing and brand-building over the last decade.
As well as wide-reaching marketing campaigns, the company also puts a lot of attention on in-store displays, and has a team of 180 dedicated merchandisers around the country.
For products like its Wonderful Pistachios, these bins display messages highlighting their health benefits. Cooper said there was a "high purchase motivation" when consumers saw the messages.
Like Halos, Wonderful Pistachios have also proved very successful at the checkout, becoming one of Walmart's best-selling items in an area that is typically filled with candy bars. Another success has been placing the pistachios bins in the produce section, as opposed to the center-store aisles.
"We need for retailers to understand that, to get it into produce," Cooper said. "Wonderful Pistachios last year added more dollars than any other snack brand."
At present the company controls around 80% of the U.S. pistachio market.
The company's pomegranate juice business is also undergoing significant growth, with sales of leading product POM Wonderful 100% Pomegranate Juice up 25% year-on-year.
In 2016 POM was the fastest-growing Super Premium Juice (SPJ) brand, accounting for 38% of the dollar growth in the SPJ category over the past year.
After touring the company's high-tech pistachio and almond processing facilities in Lost Hills, which are already mammoth in size and undergoing further expansion works, we were then treated to an immersive bee experience with the director of pollination operations Dr. Gordon Wardell.
Wonderful Citrus
The tour then headed over to Delano to see Wonderful's citrus operations.
Wonderful Citrus is one of the organization's deepest business segments in terms of vertical integration. It owns everything from nurseries to farming operations in California, Texas and Mexico and processing facilities.
The company is the largest citrus grower in North America, with a number-one position in many product lines and a breadth of offerings in the category that is almost unparalleled amongst its competitors, according to Wonderful Citrus president David Krause.
We were taken to a 640-acre block in the foothills of the mountains. The orchard was planted with the Tango mandarin in 2013, having previously produced oranges.
Click here to see our photo gallery of the Halo orchard and processing facility.
Wonderful Citrus' most known product is its Halos, the U.S.'s leading mandarin brand that typically has around a 55% market share. This figure rises even higher toward the end of the season when most other players are out of the market. By mid-April this year the company expects to have a whopping 70-80% share.
Through plantings with different varieties, locations and rootstocks, the total Halo season now lasts around 28 weeks, beginning with clementines during the first 10 weeks and then mandarin types for the remainder.
Over the last couple of years Halos accounted for around three-quarters of growth in the mandarin category, and 12% of total produce sales growth.
Following the visit to the mandarin farm, we headed to Wonderful Citrus' headquarters for a look round the Halo processing and packing facility.
Expanding its citrus footprint, in January 2017 the company announced it had acquired DNE World Fruit and DNE International - Florida's largest citrus marketing and export companies - which Krause said was to provide counter-seasonal fruit.
"That's been a great add, and it's folding in very nicely," he said.
Wonderful has also been significantly developing its lemons and lime programs, which, according to national accounts director Adam Lazo, have been growing at a double-digit rate for the last five years.
"On limes we've come into a really fragmented market and really add stability to it...and that vertical integration and added stability in pricing and quality consistency has really lifted that market, and the upside is tremendous," he said.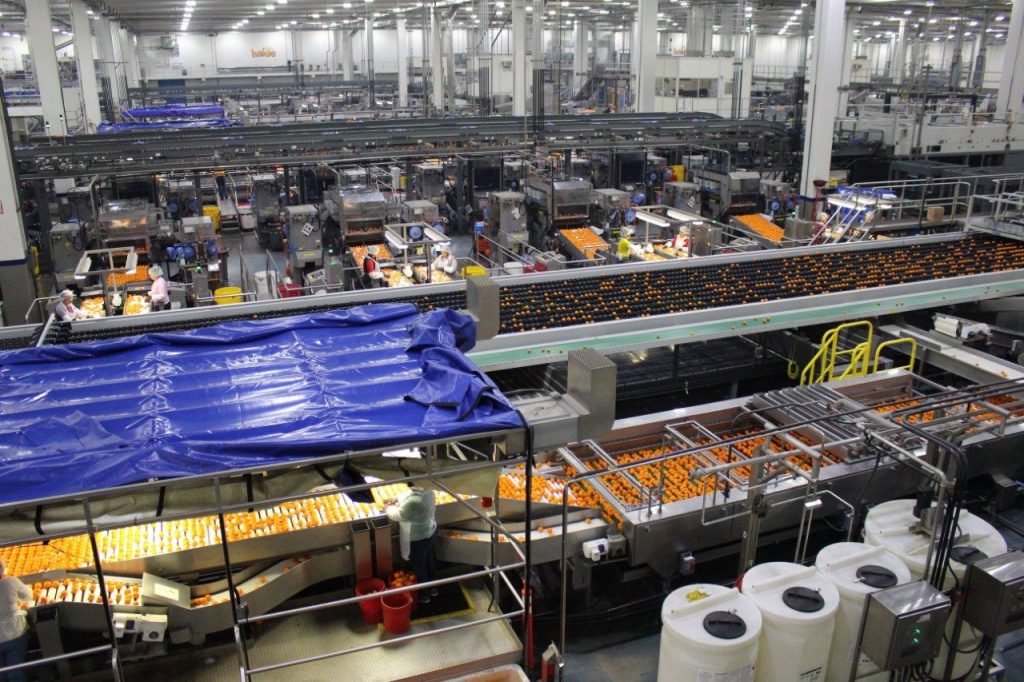 "So it's fun not only to be a part of the mandarin piece, but when you take a look at what's happening within those two other categories...we're really in a position to take advantage of those emerging markets."
Wonderful has been making significant land purchases for both lemons and limes over the years. For the former, it owns acreage in three major growing regions in the U.S. and controls around 5,000 acres of Mexican lime production.
"We've watched the consumer data and the growth in the category and consumption, and we've seen both of those increasing quite rapidly, so strategically we've been making acquisitions and growing our supply of that, through investments in Mexico and other plantings, heavily in limes," said Wonderful Citrus president David Krause.
Wonderful also supplies citrus products like blood oranges, Cara Caras and grapefruit (branded as Sweet Scarletts), and Lazo noted the that company's citrus "one-stop-shop" status was especially important nowadays with increasing regulation on the trucking industry, which has led to many retailers wanting to make fewer deliveries but with more products.
Sustainability and corporate responsibility
Cooper also explained that Wonderful had also placed huge importance on the well-being of its employees. It has built wellness centers and fitness centers for its staff, along with grocery stores and restaurants that sell discounted healthy food.
It has also built parks and schools for local communities and provides numerous college scholarships. In addition, the company gives US$1,000 to each of its employees every year to donate to a charity of their choice.
Wonderful has also invested around US$200 million in sustainability initiatives over recent years.
"Continuous improvement is a big theme for us across our company, and we're always trying to find new ways of doing things better," Cooper said.
Subscribe to our newsletter