U.S.: "Tremendous growth" seen in watermelon merchandising
May 04 , 2018
As the U.S. National Watermelon Promotion Board (NWPB) gears up for what looks set to be a strong production year, the organization has highlighted the significant development of the fruit in retail and foodservice.
There has been "tremendous growth" over the last several years in the year-round merchandising of watermelon in supermarkets, according to NWPB senior director of communications Stephanie Barlow.
While previously limited to whole watermelons and a small amount of fresh-cut, the retail offering has now greatly expanded and total sales have grown from US$1.4 billion in 2013 to US$1.7 billion last year.
"We're certainly seeing a great deal more of fresh-cut, mini, and wholes," Barlow said.
Even within the fresh-cut category, there are now numerous options for consumers, including sticks, wedges, cubes and even diced.
"From the demand side one reason we are seeing more year-round watermelon sales is that we are promoting watermelons' health and value and versatility all 12 months a year," she said, noting watermelon was the best value in the fruit category at US$0.17 per serving.
"The fresh-cut very much leans to our 'Watermelon On The Go' campaign tackling convenience as well as versatility. We want watermelons to be seen as convenient, which is one of the biggest obstacles according to our research of why people are not buying watermelon."
In the foodservice sector, Barlow said that the watermelons' presence in restaurants had been growing rapidly, with the fruit having grown 27% in the sector over the last four years and now appearing on one in 10 of menus, according to 2017 Datassential MenuTrends Research.
While it is most popular in the desert, beverages and cocktails sections, there is also penetration on appetizers, entrées and side dishes.
"Watermelon is a beloved ingredient particularly in the summertime, so we're really putting some effort into the year-round availability, positioning it outside of the summer with a U.S. and Mexico research project that's underway right now," Barlow said.
"Certainly, there are some foodservice establishments across the country that have watermelon on their menus year-round, but it is currently exceptionally popular with those summertime menus."
Across-the-board promotions
Along with its 'Watermelon On The Go' consumer campaign that will debut this summer, the NWPB is also carrying out retail promotions and foodservice outreach.
For the latter, the board plans to partner with more hotel and entertainment foodservice establishments, which make up 7% of the foodservice industry.
As for retail, the NWPB is continuing with its retail display contest, which is now in its tenth year. The organization provides merchandising kits through the summer months and encourages retailers to get creative with their displays.
"This contest is a win-win for both the consumer and the retailer because it is the largest item in the produce section, so we say 'use that real estate, build the biggest display you can, get creative, but also get your messaging in there,'" Barlow said.
"Our research shows that what consumers want at that point of purchase is selection information - how to pick out a good watermelon - and they want health benefits."
The contest is run under two categories - Classic and Star Spangled Watermelon, which takes place in the run-up to the Fourth of July celebrations. (see below for photos of last year's winners)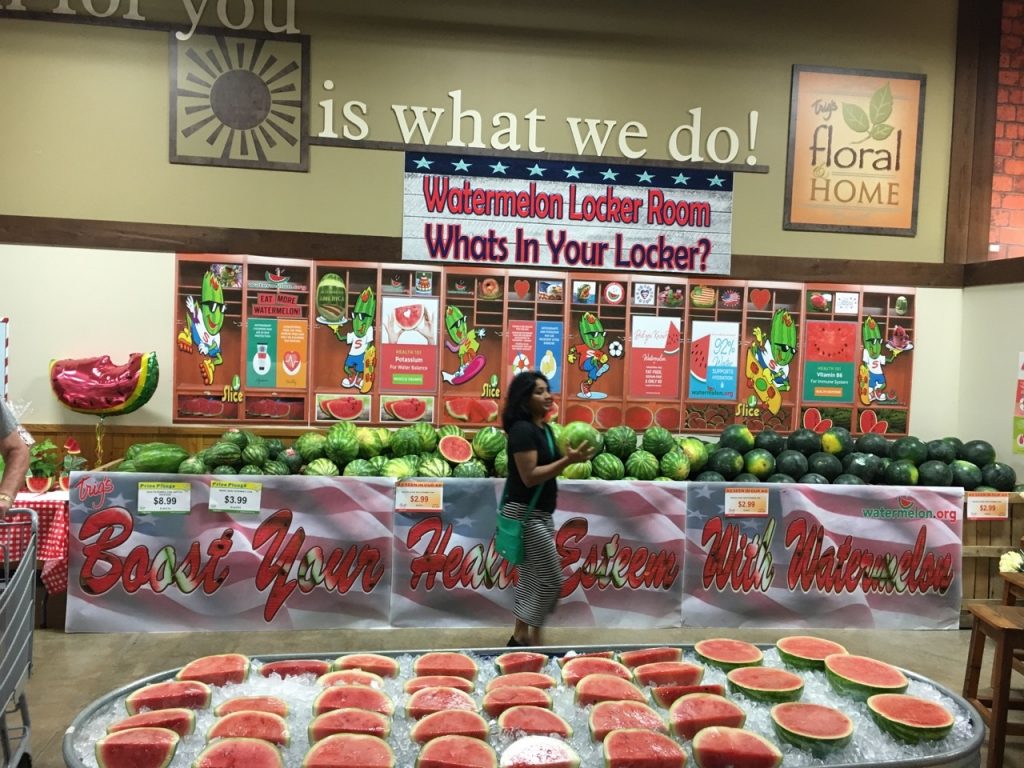 2018 season kicks off
NWPB executive director and CEO Mark Arney said that the initial domestic harvest and shipping is underway in Florida and Texas.
"Overall watermelon shipments are slightly below the previous five-year average for this time of the year, but that is subject to change as other areas around the country begin to ship and ramp up for what promises to be an excellent year for watermelons," he said.
Imports from Mexico over recent weeks have been slightly down on the five-year average, but this has coincided with an increase from Florida during the start of its season, according to data provided by the NWPB.
Weekly U.S. market movement in late April was around 120 million pounds, putting it on par with 2016 but behind last year.
Also as of late April, the average FOB price level was recorded at US$0.26 per pound, making it the highest of the last five years except from 2013, and US$0.04 above the five-year average.
Subscribe to our newsletter