South African yellow kiwifruit successfully exported to Europe
July 05 , 2018
More News
Today's Headline
South Africa successfully carried out commercial yellow kiwifruit exports this year, which arrived in the European market at a time when there was very little competition.
Variety Innovations B.V. managing director Peter Turner said the exports began in mid-February and corresponded mainly to the Soreli variety. He told Fresh Fruit Portal total export volumes this year were a little under 100 metric tons (MT).
Development in South Africa's kiwifruit industry has been picking up pace over recent years. Turner estimates there are now 500 hectares planted, including 200 of yellow varieties.
While volumes until this year had limited the export potential, the 2018 season saw a larger commercial crop from Soreli vines planted by growers around three or four years ago.
"The biggest development over the last year has been the elevation of success for exports," Turner said.
"The fruit arrived in good condition overseas and achieved good return prices to growers. So it's been the first tangible step for South African growers that they can produce good quality yellow kiwi, and they produce it at a time when they can go into a market in Europe ahead of any other Southern Hemisphere player."
He said the returns growers achieved by getting into the "virtually empty" European market before Chile and New Zealand had boosted the industry's confidence and were a confirmation of the longer-term opportunities that lay ahead.
Export volumes are expected to double annually over the coming years, with yellow kiwifruit likely to be shipped to Asian and Middle Eastern markets next season.
Most of the fruit that was exported this year came from an eight-hectare farm in Mpumalanga province, located close production unit called Mpumalanga Kiwi Orchards (MKO), in which Turner is involved. Additional supplies came from other growers.
"These are the forerunners of the industry - the guys who a couple of years ago were the first to get into kiwi. Now these short, smaller successes are giving a greater degree of momentum to other growers to expand their plantings and also to new growers who want to come into the game," he said.
Around a couple of decades ago there was an established Hayward kiwifruit industry in South Africa, which had supplied the domestic market and other African countries, Turner said, but he explained the industry declined and there was a long period in which no exports took place.
Interest in producing and exporting kiwifruit has been growing recently as new varieties have become available, although due to the warm climate the sector is not likely to ever match the size of the industries in Chile and New Zealand.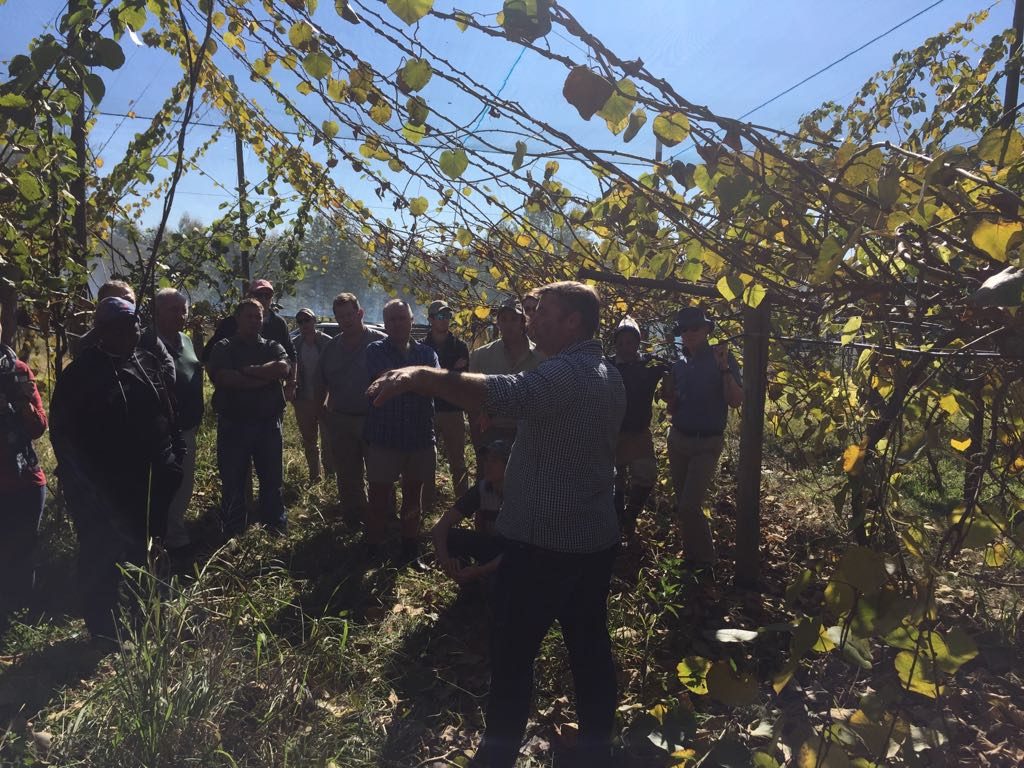 Mpumalanga is a sub-tropical region, but the orchards have been planted at high enough elevation that they receive sufficient chilling hours.
Two other major benefits of the location are that the vine disease Psa is unlikely to occur there due to the warm spring, and also the abundance of sunlight hours which allows the fruit to be harvested at higher Brix levels than much of the Southern Hemisphere competition, Turner said.
He said that Soreli plantings in the Western Cape would come on later than in Mpumalanga, and there would be around a two-month ripening window across the country. For Hayward, MKO has only recently finished harvesting from its Mpumalanga orchard.
Soreli has proved the most successful yellow cultivar so far, but the sector has other varieties to trial in the pipeline, such as Jintao, another Italian-origin variety.
"That material has emerged out of quarantine and we're busy multiplying and top working. We've got the first fruit of the Jintao looking very promising and very exciting, so I think that will also give a wider range of varieties that will be successful in the area over time," he said.
Red kiwifruit varieties originating from China will also soon be trialed, he added.
As well as exports, there are also good opportunities to sell kiwifruit in the domestic South African market, which is currently a net importer, mainly from Europe and New Zealand.
Correction: When this article was originally published on July 5, Peter Turner's company was incorrectly written as Biogold Intellectual Property, but in 2017 the company changed its name to Variety Innovations B.V. This has been changed in the article.
Photos courtesy of Peter Turner
Related story: South African yellow kiwifruit successfully exported to Europe
Subscribe to our newsletter