U.S.: Brighter Bites delivers fresh fruit and veg from NYPS to Queens school students
Non-profit Brighter Bites last week delivered fresh fruit and vegetables partly donated from the New York Produce Show and Conference to kids at a school in the borough of Queens.
Exhibitors at the four-day annual event that took place from Dec. 10-13 donated produce that was on display during the trade show to the Houston-based organization.
Founded in 2012, Brighter Bites delivers fresh produce into the hands of needy children and families while also providing tips to the families on how to incorporate the produce into their diet.
It does this in a consistent way that has been shown to lead to behavioral change and increase most families' intake of fruit and vegetables even after the program has finished.
The organization now operates in six places around the U.S. - Houston, Dallas, Austin, New York City, the Washington D.C. area and Southwest Florida - giving kids bags of fresh produce to take home.
It does this at each school over two eight-week periods of the year, working with a team of volunteers at each location to help pack the bags.
Since it began, Brighter Bites has provided over 18 million pounds of produce to more than 265,000 individuals at over 125 sites around the country.
The fresh fruits and vegetables are sourced from suppliers and retailers through donations and purchases and are then delivered to Brighter Bites' partner food banks and distributors. Each week the team chooses different types of produce from the warehouse coolers.
At the end of the trade show day each year at the New York Produce Show and Conference, the hundreds of exhibitors donate their top quality fruits and vegetables on display. These are then collected by non-profit City Harvest, which is Brighter Bites' partner in New York City.
This year members from the Brighter Bites team including co-founders Lisa Helfman and Shreela Sharma passed around the trade show floor last week, selecting fruits and vegetables to be donated to kids at the Queens school on Dec. 13.
Exhibitors who donated produce for the Brighter Bites donation include D'Arrigo Bros. Co. - which sends produce to the organization every week during the school year - and Pure Fresh.
Donated produce items included cauliflower, red bell peppers and garlic - which were used at the trade show to create a huge U.S. flag made from vegetables (see photo below) - along with cucumbers, pomegranates and persimmons.
The produce from the show arrived at the school on the morning of Dec. 13 alongside other fruits and vegetables donated by D'Arrigo Bros. and City Harvest - including from one of the latter's donors, Blue Apron - and was swiftly put into bags as it moved along an energetic human production line made up of dozens of volunteers including kids' family members.
"I am grateful for the New York Produce Show's commitment to Brighter Bites. After a wonderful day participating in the show and speaking to several audiences there, we were thrilled with the bounty of produce that went from the show directly into our family's hands the next day in Queens," said Helfman.
"Thanks to the show and our partner, City Harvest, our families received gorgeous items such as cauliflower, pomegranates and persimmons! Many have never even seen these items much less tasted them. To see the excitement in their faces when we handed out these overflowing bags was tremendous.
"Every day I wake up with so much gratitude that we have built a program that is literally changing lives and empowering families across the country to achieve better health through fresh food. I can't imagine anything better than that!"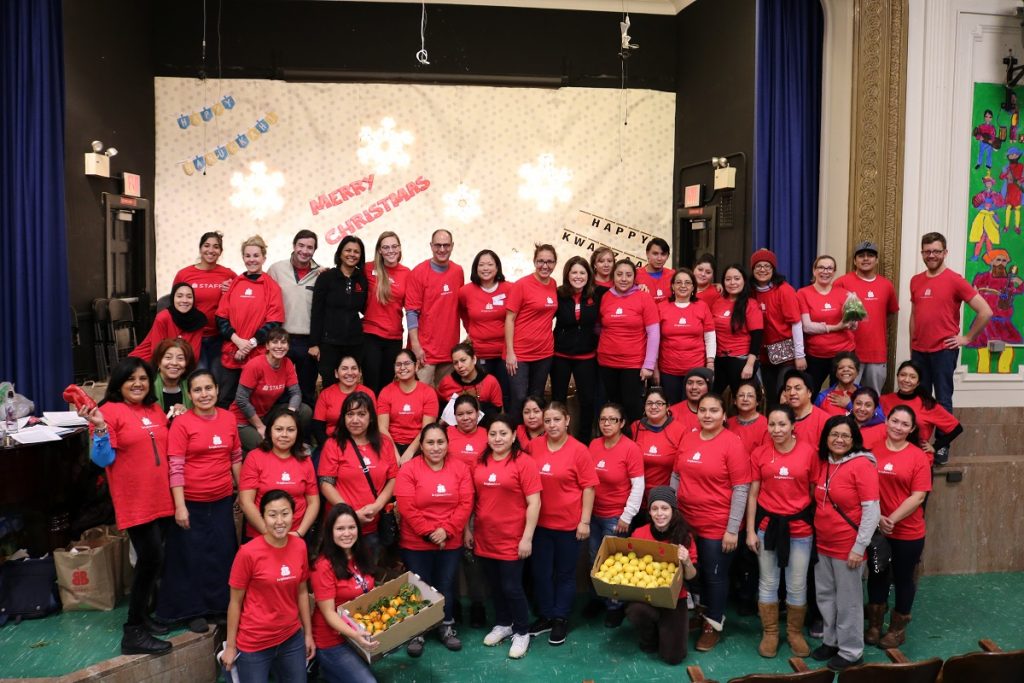 Subscribe to our newsletter