Colombia to be "relevant player" in blueberry industry, says nursery
May 11 , 2017
Editor's Choice
More News
Today's Headline
A Colombian blueberry producer believes there is a strong future in store for the industry that is starting to get off the ground, highlighting favorable export protocols for the U.S. market.
Blueberries Colombia uses in-vitro cultivation to generate plant material and grows the fruit using separate containers for each plant
Company representative Andrés Duque told Fresh Fruit Portal the company was currently focused on developing a blueberry export industry in Colombia, and is involved with six other growers with a total surface area of 10 hectares.
"Blueberries Colombia carries out the reproduction of the plant material in a highly advanced laboratory and provides technical assistance to its clients for the fruit using this type of bag technology," he said.
The plant material was imported from Chile.
Blueberries Colombia is working solely with the Biloxi variety, which has a low chilling requirement and is said to adapt well to the areas of Cundinamarca, near Bogotá, where the company has two hectares of its own production.
By using containers, or bags, for each individual plant, the non-soil growing medium of each plant can be altered independently from the others, Duque explained.
"Because of the fact that each plant is isolated from the others in its substrate or soil-free growing medium, we can avoid, among others, the difficulty of the physical and chemical management that exists with substrate that contains soil," he said.
Duque said the growing method also allowed the company to control aeration, humidity and Ph and nutrient levels required for each plant in a more efficient way.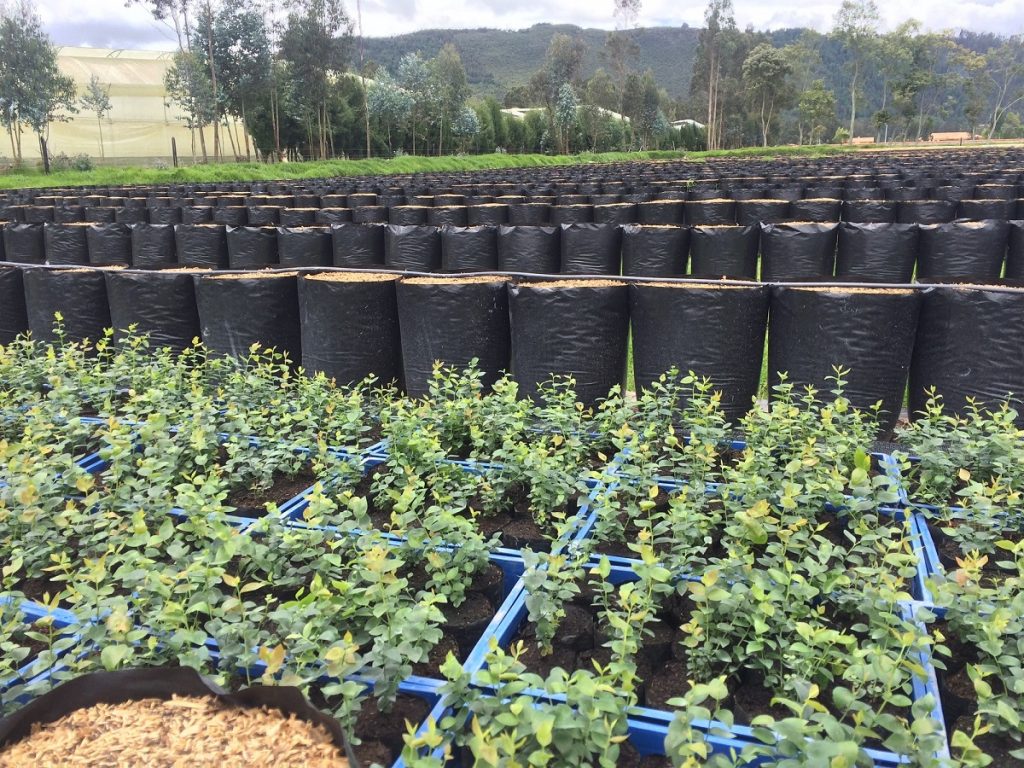 Attractive protocol for U.S. exports
From a commercial point of view, Duque highlighted that Colombia had a significant advantage over its closest competitor, Peru, due to the elevation of the plantations.
"We are located at an elevation higher than 2,200 meters above sea level, which means that we don't need to treat the fruit for Mediterranean fruit fly for export to the U.S.," he said.
"This is backed by the USDA [United States Department of Agriculture] and saves us both treatment costs and the additional time it takes to carry out the treatment."
The high elevation also means that the fruit can be shipped into Florida, rather than having to be sent to a port further north in the country.
Blueberries Colombia now plans to establish 1,000 hectares of production in the short-term.
"We want to encourage producers to grow blueberries in Colombia. We believe we have all the advantages to be a relevant player in the future," he said.
Subscribe to our newsletter