NZ lemon grower proves climate isn't everything
June 28 , 2017
Editor's Choice
More News
Today's Headline
It's a country mostly associated with kiwifruit and apples in fruit circles, but New Zealand has also been able to find its place in niche citrus markets within Asia and Australia. In one of the world's "most marginal" climates for the crop, grower-exporter T&G has rejigged lemon growing methods and is entering new markets to supplement its longstanding export relationship with Japan.
T&G citrus manager Pieter Traas oversees New Zealand's largest Yen Ben lemon operation, covering 54 hectares in Kerikeri - a region known for its wet summers and wet winters; essentially the opposite of the Mediterranean conditions usually associated with citrus.
For those unfamiliar with the variety, it's a seedless sour, cooking lemon with thin skin and high juice content, making it ideal for restaurants, bars and foodies who want to give a bit more acidic bite to their meals and drinks.
"We are the biggest Yen Ben grower certainly, and that was really based on the Japanese market because this is a product that they particularly like and we seem to be able to grow it well," Traas tells Fresh Fruit Portal.
Growing it is not easy though, and T&G has made a variety of changes at the orchard level over the past decade that are starting to show results now. For starters, in two of the company's three orchards 'Trifoliata' rootstocks were taken out and replaced with Benton citrange rootstocks, grafted with Yen Bens on top.
"Those trees are almost coming into full production but we're not quite there yet; we're seeing the effects of that because the one orchard that's left on the old trifoliata rootstock with the Yen Ben, although it does produce very well, fruit size is generally smaller," Traas says.
"So from an export point of view, certainly for the Yen Ben you're looking for thin-skinned fruit, high juice content and seedless fruit of good size."
Tree vigor and output are crucial for the profitability of an orchard, but there's no point making such a significant investment in converting rootstocks if wet conditions are going to damage fruit. T&G has responded accordingly, adapting to the climate to get the best possible fruit under the conditions.
"What we've got to be aware of is because we're growing in one of the most marginal climates in the world for citrus - it's quite warm and wet - you've certainly got to watch the water," Traas tells Fresh Fruit Portal.
"With all citrus you've got to be very careful about handling it, especially in wet conditions, because the skin becomes 'turgid' – the cells in the skin fill with water and then they can burst very easily if they are handled roughly.
"So we tend not to pick under very wet conditions."
Farming methods, orchard structure
The farms undergo what is called "curing the fruit", which means leaving it standing a few days before packing.
"It's very important to handle it gently, pick it when it's dry and process it very carefully. Of course there's not a lot we can do about our climate, we've just got to live with it, but that's a challenge for us to manage our packing for all citrus – not just lemons," Traas says.
"Certainly from an orchard point of view, we are quite heavily sheltered here in our orchard. We have to try and create a microclimate," he says, emphasizing this is mostly for wind protection.
"Lemons tend to grow on quite long branches, but even for our mandarins and oranges, we do shelter our blocks quite heavily to prevent wind damage, but also to create that microclimate of warmth in the spring so we get good flowering."
Another important growing technique for the operation is draining all blocks of water.
"They can also be mounded. For example the new plantings of lemons are on mounds which are about half a meter to three-quarters of a meter high, and the lemon tree sits on a ridge.
"During wet periods it just keeps the root zone out of the water. You want it moist but not waterlogged.
"From an orchard establishment point of view, I guess we've learnt along the way. This does work very successfully and I think we are getting the results from that."
Another key issue in a wet climate is protection against pests and fungal diseases.
"We use an integrated pest management system for our insect pests. Monitors or scouts will check pest populations in the orchards on a regular basis. Spraying occurs when a pest threshold is exceeded and we think there will be significant financial loss," Traas says.
"Otherwise we try to minimize the use of insecticide spraying and use the 'softer' options where possible. However, fungal diseases are certainly a challenge for us...in drier climates of course you wouldn't need to spray as often.
"We do need to do that out in the field because our postharvest is a chem-free process and that's our niche market in Japan."
Season outlook
Traas says the growing season has been good this year, with quite a dry summer which hasn't been an issue because the orchards have irrigated.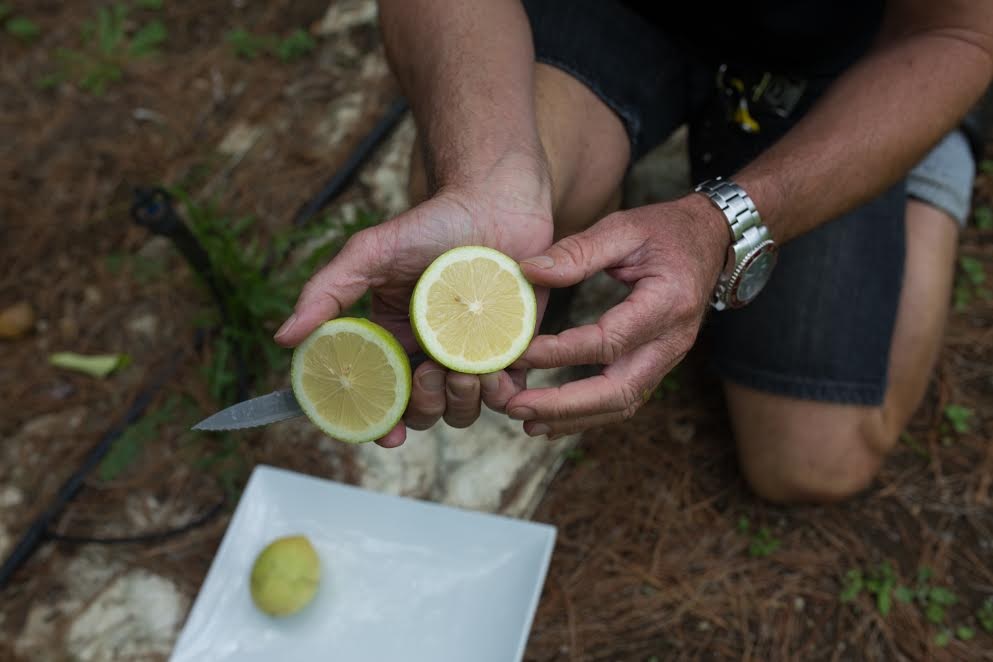 "Going back to the previous spring there's been good flowering, so we've had good fruit set and growing conditions," he says.
"We're coming up into harvest now with the export lemons starting. we've got a good crop, good volumes so that's obviously good for us from a financial point of view, and quality is looking good."
He says T&G also grows Satsuma mandarins and Navel oranges, but both are mostly for the domestic market.
"Our mandarin crop is actually bigger than our lemon crop, but most of that is domestic and the lemons are for export.
"The Navel crop is still growing in volume, so whether we get into an export situation I'm not quite sure yet. We'll have to see how that goes, but certainly, but certainly the domestic market can take all that we produce."
In lemons the company only grows Yen Ben, but from third-party producers it also sources and markets another well-known variety from New Zealand - Meyer lemons, generally from the Gisborne area about 450mi south of Kerikeri, which itself lies close to the northernmost tip of the country.
"Volume is ahead of expectations – in other words we have exported more containers than we normally would have at this time of year," development manager Steve Ward tells Fresh Fruit Portal.
"Quality is probably not quite as good as last year, but overall very good."
He says the advanced season is due to the same dry conditions over the summer described by Traas, adding that the relatively mild but cool autumn (fall) that followed brought on coloring more than normal.
As a consequence Ward expects the season will also finish earlier for the Meyer lemons. Longer term, he believes there will be more plantings of the variety in the future.
"We are very aware of current work in the nurseries to supply demand," he adds.
T&G sales and operations manager Ben Barker says Meyer fits into a very different category to the Yen Ben, with a brighter color that makes it more of a retail variety.
"You could almost call it an eating lemon – it's a lot sweeter, it's not that traditional 'bitey' lemon but it's probably more eye-catching," he says.
"We export We don't grow any Meyers specifically – our own production is all in Yen Ben up in Kerikeri, but we do have third-party suppliers and relationships who grow Meyer for us through Gisborne that we solely market for.
"We export their fruit into China mainly and also use it in the domestic market for supermarket programs and market floors."
In Yen Ben lemons, Barker says Japan takes about 80% of the export volume, but new market destinations are entering the mix.
"We've got minor markets like Hong Kong and at the later part of the season Australia," he says.
"Japan's been consistent. We've had that export market for a long time now, probably since our lemons came into production.
"Australia is something that we started last year and same with Hong Kong which is new to us this year too. With increased volume we are looking for alternative markets to keep moving the product through."
He adds markets have become increasingly competitive with more supply coming from other Southern Hemisphere countries, but T&G's marketing arm Delica has the added support of leveraging existing client relationships established through its sales of premium apple brands Envy and Jazz.
"It's very competitive, more so now than it used to be, so we do get a lot of pressure from South Africa and Chile in Japan predominantly.
"Obviously their labor costs are a lot cheaper than ours, so that's probably one of the major challenges for us. Also they grow on a larger scale.
"A lot of these guys we're exporting lemons to are customers Delica deal with 12 months a year, so it's not just a lemon business. They do multiple different varieties of business with them – we definitely leverage lemons with the other varieties."
Subscribe to our newsletter