Agronometrics in Charts: ASOEX lowers its projection for the 2022-23 Chilean table grape season
March 09 , 2023
Agronometrics in Charts
More News
Top Stories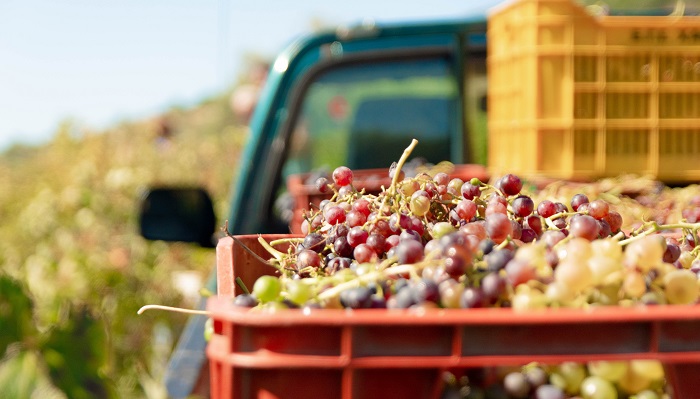 In this installment of the 'Agronometrics In Charts' series, Sarah Ilyas studies the state of the Chilean table grape season. Each week the series looks at a different horticultural commodity, focusing on a specific origin or topic visualizing the market factors that are driving change.
---
Chile is currently the world's main exporter of table grapes. Its main destination market is the United States, which accounted for 49% of its exports in the 2021-2022 season, followed by the Far East with 22% and Europe with 17%.
The Table Grape Committee of the Association of Fruit Exporters of Chile (ASOEX) conducted a sixth projection for the 2022-23 season in light of the reduced availability of table grapes in the central region of the nation. According to the projection, the country would ship out 64,518,065 standard boxes weighing 8.2 kilograms, which is 13.2% lower than the previous season and 4% less than the estimate given less than a month ago.
Despite the decline, the president of ASOEX, Ivan Marambio, has indicated that 54% of Chile's exports will come from new varieties. In the latest projection, new table grape types are expected to account for 34,788,400 boxes, while older cultivars will account for 18,591,491 boxes, and Red Globe grapes will account for 11,138,173 boxes.
According to Ignacio Caballero, marketing director of ASOEX and Coordinator of the Table Grape Committee, the decrease in volumes is due to a decrease in production in the central region of Chile, mainly due to climate issues. "North America and Asia are the main markets for Chilean grapes, concentrating around 80% of all shipments. We hope that with this new estimate, we can reduce the pressure on the US market and that there is a greater diversification to other markets, especially considering the significant late volume of grapes that Peru is sending to this destination," he stated.
---
Source: USDA Market News via

Agronometrics
(Agronometrics users can view this chart with live updates
here
)
---
In general, the produce business has not recovered to its pre-Covid sales levels. "You scratch your head as to why," says John Pandol, special projects director for Pandol Bros. Inc, in Delano, CA. Pandol notes that impulse sales at retail are lost when 5% of sales are online. While big displays move volume from brick and mortar, "how do you make that work online?"
U.S. customers are also becoming frugal because of rising inflation. Pandol observes that the trend toward better diets in the United States receives too much attention. Consumers continue to make poor eating choices, as produce consumption stays flat, he claims. 
The previous few years have been challenging for the Chilean table grape business due to adverse weather conditions and logistical difficulties, to name a few. "As a result, this year is vital for Chilean growers, and they have an opportunity to show that they can still deliver an outstanding product," says Michael DuPuis of Divine Flavor.
"Chile has been slower to pivot into new varieties due to quarantine requirements," says Divine Flavor's Antonio Escobar. "It would be difficult to mention an exact number, but there's still a significant number of traditional varieties coming into the North American market," he claims.
Another challenge has been the overlap with other production regions. "Chile loses attractive market windows every year," commented Escobar. "There is a global grape oversupply and Chile's production overlaps with many other grape growing countries." First of all, the beginning of Chile's season overlaps with Peru, a country that takes a larger part of the North American market. At the end of the Chilean season, Mexico already hits the market and has closer proximity to the United States. If that wasn't enough, harvest fully overlaps with South Africa, a country that focuses on exports to Europe.
Not only does Chile's neighbor Peru have the benefit of growing a larger share of new varieties, grapes from the country can also enter the US without fumigation. "Chile is now pushing for a Systems Approach that would allow the fruit to arrive without fumigation," shared Escobar. "This could be key for Chilean grapes as it would improve the quality of the fruit upon arrival. The only way to have an edge in this environment is by having the best quality and flavor," said Escobar. "Both have to be exceptional, and our growers in Chile understand this very well."
---
Source: USDA Market News via

Agronometrics.
(Agronometrics users can view this chart with live updates
here
)
---
A total of 35,919,879 cases of table grapes are expected to be shipped to North America, while 13,838,353 cases will head to Asia and 9,165,309 will make their way to Europe. This year, the best weeks for shipments are likely to fall between weeks 7 and 12. The Table Grape Committee of ASOEX reports that as of week 8, Chile has exported 23,903,222 boxes of fresh table grapes, which is 17% higher than that recorded at the same time in the previous season. This increase, however, is due to the significant delay of the season there was in the previous season. North America has received 73% of all Chilean fresh grape shipments, followed by China-Hong Kong, and Europe with 6%, respectively. Other markets in Asia have received 7% of the volume, Latin America 5%, and other destinations 3%.
---
Source: USDA Market News via

Agronometrics.
(Agronometrics users can view this chart with live updates
here
)
---
In our 'In Charts' series, we work to tell some of the stories that are moving the industry. Feel free to take a look at the other articles by clicking here.
All pricing for domestic US produce represents the spot market at Shipping Point (i.e. packing house/climate controlled warehouse, etc.). For imported fruit, the pricing data represents the spot market at Port of Entry.
You can keep track of the markets daily through Agronometrics, a data visualization tool built to help the industry make sense of the huge amounts of data that professionals need to access to make informed decisions. If you found the information and the charts from this article useful, feel free to visit us at www.agronometrics.com where you can easily access these same graphs, or explore the other 21 commodities we currently track.
Subscribe to our newsletter