Agronometrics Shorts: California dominating U.S. peach production
September 12 , 2023
Agronometrics in Charts
More News
Top Stories
The USDA recently unveiled a telling visualization of peach production in the United States. Surprising to some, California, not Georgia stands as the nation's foremost peach-producing state. In 2022, California harvested a whopping 475,000 tons of peaches, leaving South Carolina a distant second at 67,400 tons, and Georgia trailing in third place with 24,800 tons.
California has long held its mantle as the leading producer of freestone peaches for the fresh market and clingstone peaches destined for processing. However, a persistent decline in California's peach production over nearly two decades has contributed to a broader drop in U.S. peach output.
In 2022, U.S. peach production amounted to an estimated 625,680 tons, an 8% dip from 2019 levels. The numbers reveal that California's 2022 peach harvest was about 5% smaller than in 2019 and nearly 27% lower than a decade earlier.
Looking ahead, the USDA's National Agricultural Statistics Service anticipates a 13% decrease in peach production for 2023. Georgia and South Carolina faced their own challenges, with unseasonably warm late-winter weather followed by late-spring cold snaps impacting their peach crops. As we venture into the future, it remains to be seen whether California's dominance in peach production will rebound in the face of these shifting dynamics.
---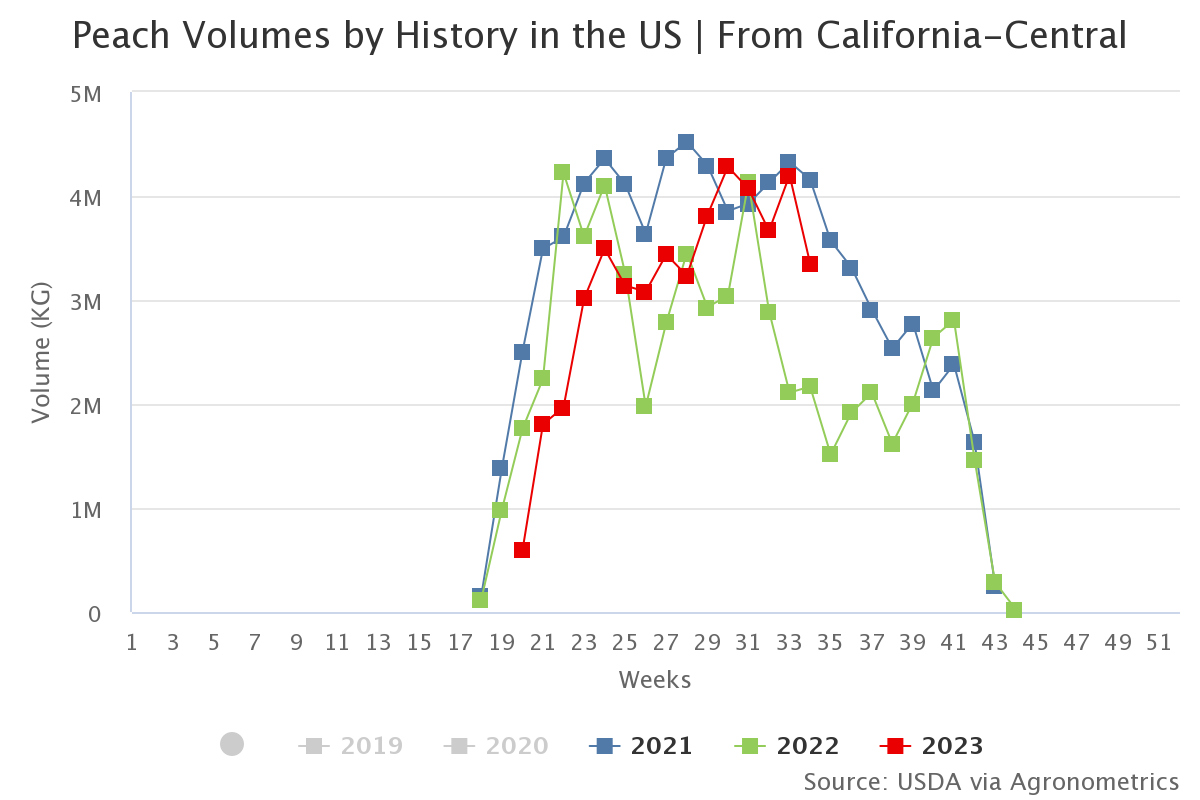 Source: USDA Market News via Agronometrics.
(Agronometrics users can view this chart with live updates here)
Subscribe to our newsletter