Agrovision CEO on Peruvian blueberry varietal transition 
October 24 , 2023
More News
Today's Headline
Top Stories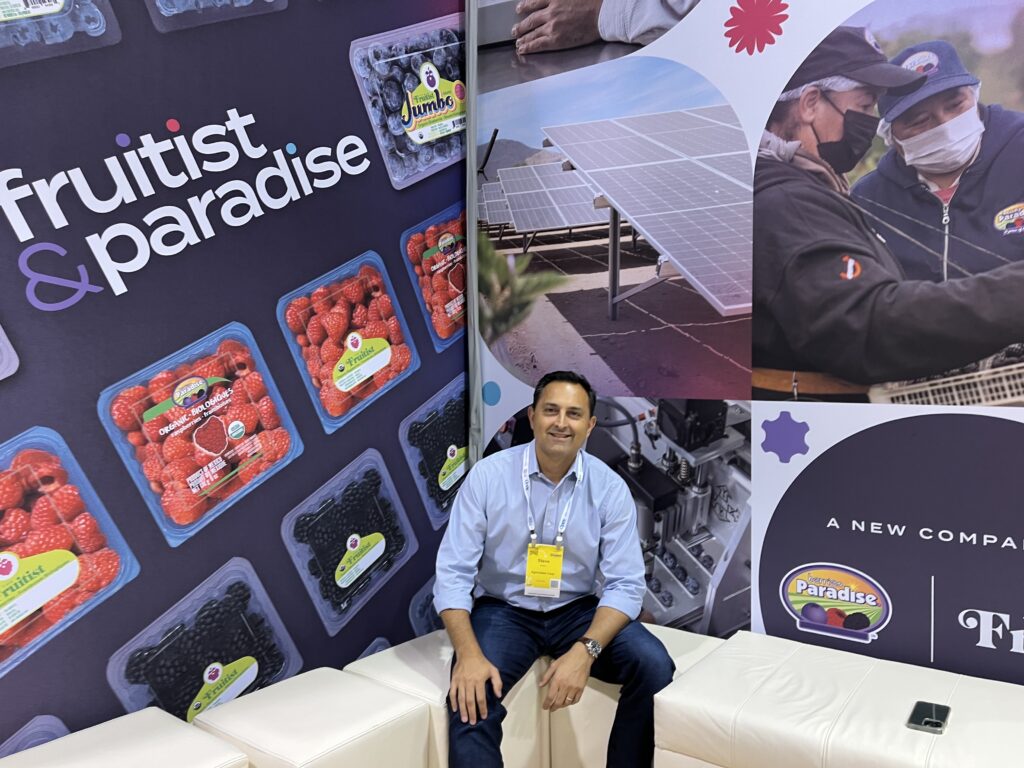 Agrovision is one of the fastest-growing and leading producers of superfruits in the world. During the peak of the Peruvian blueberry season, the company attended the 2023 Global Produce and Floral Show to meet with technology partners, retailers, breeders, and growing partners around the world.
Steve Magami, CEO and co-founder of Agrovision spoke with FreshFruitPortal.com, expressing his excitement at the fact that they have been, for the last couple of weeks, the largest blueberry exporter from Peru.
"The vast majority of our fruit this year is from premium varieties, with premium quality. It's an interesting time because with the markets short of fruit, it gives retailers and consumers an opportunity to buy premium for a much lower price, or percentage over standard because non-premium prices have been so high. So you get a lot more fruit for your money," says Magami.
Drop in production volumes
Regarding the widely-discussed lowered Peruvian blueberry volumes, the company's main sourcing region, Magami says they were "somewhat prepared for this to happen.
"By virtue of the fact that we've been focused on planting the most climate resilient and adapted varieties and given that we only have 20% of our plantings in Ventura and zero in Biloxi, which make up more than 70% of the market in that region, it gives us an advantage in this situation," adds Magami.
Magami recognizes that the industry is down this year, however, he thanks their varietal portfolio for the fact that Agrovision is "down less than the rest of the industry."
"We're thankful, ultimately, to the genetics in our varieties, which are one of the foundation pillars of our company," he says.
High prices and varietal transition
Regarding prices, Agrovision's CEO recognizes they have been very high, but adds that as long as Peruvian producers don't undersell, they will recover from the shortfall in volume by season's end.
"In the long run this challenging season could be a blessing, because they will realize they should not be planting older varieties, and should focus on climate adaptive varieties," says Magami.
He hopes it will also accelerate the planning for the replacement of old, less resistant varieties.
Consumer feedback
Agrovision's premium blueberry varieties are grown in Peru, Mexico, Morocco, and the U.S. Magami says they receive "amazing" feedback from consumers.
"We're ramping up our production in all our regions to be able to supply our growing customer base year-round. Right now we are in a position to say that between Peru, Mexico, and the U.S. we will be able to cover 52 weeks of premium blueberries to our markets," says Magami.
Supplies will first go to North America and then expand to Europe and Asia.
For Magami, offering consistent quality year-round is critical for the market and consumers, allowing them to consume the same fruit all year.
Plans for China expansion
About a month ago, a report was leaked detailing Agrovision's plans to expand production to China. Magami says they're not sure how it happened, but that they do have "big plans for China."
"We think that with 400 million consumers in China, we know the reaction to this product is really good and our retailers are asking us to complete the 52 weeks. Peru will continue to supply for around eight months, and then domestically we will produce in the remaining months," indicates Magami.
He says the company is acquiring farms and will begin planting late this year or in the first quarter of 2024.
"Initially, these plantations will be exclusively to supply the Chinese market, but in the long term we think it will help supply other countries in the region."
Subscribe to our newsletter