Danish supermarket'' overwhelmed with demand for food past sell-by date
March 02 , 2016
More News
Most Read
Today's Headline
Danish consumers are lining up daily to shop at new supermarket WeFood, a store selling surplus food that is past its sell-by date.
Speaking with www.freshfruitportal.com, WeFood spokesperson Jutta Weinkouff explains how Denmark''s food waste problems led to the opening of the country''s first ever 'surplus supermarket', partially funded by non-profit organization DanChurchAid (DCA).
""About 790 million people worldwide live in such deep poverty that they go to bed hungry, while in Denmark 700,000 [metric] tons of food are thrown out and destroyed every year,"" she says.
""This heartbreaking contradiction is one of the major reasons why DCA has taken the lead in establishing WeFood.
""Actually the starting point was a TV program focusing on food waste that challenged a representative for one of the big supermarket chains who throw out food, and DCA took up the challenge in order to fight hunger.""
WeFood is stocked with products, including fresh produce, that mainstream supermarkets do not want. A team of volunteers collects items from retailers every day and WeFood sells whatever it gets.
Most of the goods are donated because there are faults in the labeling, if packaging is damaged or if the producers have more items than they can sell. There is also one shelf devoted to items which have past the 'best before' date.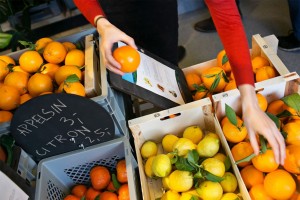 ""WeFood receives goods from supermarkets and retail shopkeepers who do not want to sell them anymore or if they have passed the 'best before' date. This refers to the date the manufacturer guarantees that the quality of the goods are totally in order.
""Often, the product can easily be eaten after this date. It is legal to sell products that have passed this date, but the supermarkets do not. These items will be in WeFood. "There is no fresh meat or goods which have passed the 'last sales date'."
""At the moment we are looking for more suppliers as it is hard to meet customer's expectations. We are trying to optimize our logistics."
The food waste crisis has been sending shockwaves around the world recently with the issue gaining momentum this year with the passing of a new law in France which bans supermarkets from throwing away food, instead forcing them to donate food to charities such as food banks.
Last week, the French politician who spearheaded the campaign to change the law, spoke with www.freshfruitportal.com calling for other European countries and the U.S. to follow France''s lead.
""The fresh fruit we receive is often surplus stock and if there are a few bad fruits in a box, it is cheaper for the supermarkets just to throw it out than to spend the time sorting through and picking the bad ones out.
""The volunteers in WeFood are happy to sort boxes out in order to save the good ones from what we receive. In WeFood goods are sold between 30%-50% cheaper than in ordinary supermarkets.""
The WeFood store was officially opened last week in a ceremony attended by the Danish Minister for Food and Environment, Eva Kjer Hansen and the patron of DCA, HRH Princess Marie of Denmark.
Since its opening, shoppers have been visiting in their droves with daily queues outside the store before doors open.
""In fact, it is difficult for us to get enough goods for all the people who would like to shop in WeFood.
""This is definitely the first of its kind in Denmark. There are so-called ''social supermarkets'' in Austria and perhaps also in other countries where people have to show a kind of certificate that they are financially unfortunate enough to shop in the supermarkets.
""WeFood is for everybody.""
An initial donation from the Roskilde Foundation and DCA helped get the project off the ground as well as a crowdfunding campaign which raised more than one million DKK (US$145,742) in just three weeks.
""When Roskilde Foundation, with whom DCA has had a long cooperation, heard that we were interested in trying to start up the shop, they promised a donation of 500,000 DKK if DCA could match the amount.
""This started a crowdfunding campaign that successfully raised more than one million DKK in total, and thus more than doubled what was expected of the WeFood crowdfunding initiative.
""We had ordinary people simply believing in the idea and wanting to support it. For now DCA carries the financial responsibility but we hope the shop, in time, will be able to give a little profit.""
Subscribe to our newsletter