Australia: Piñata exec sees "good timing" for new varieties amid strawberry glut
September 18 , 2017
Editor's Choice
More News
Today's Headline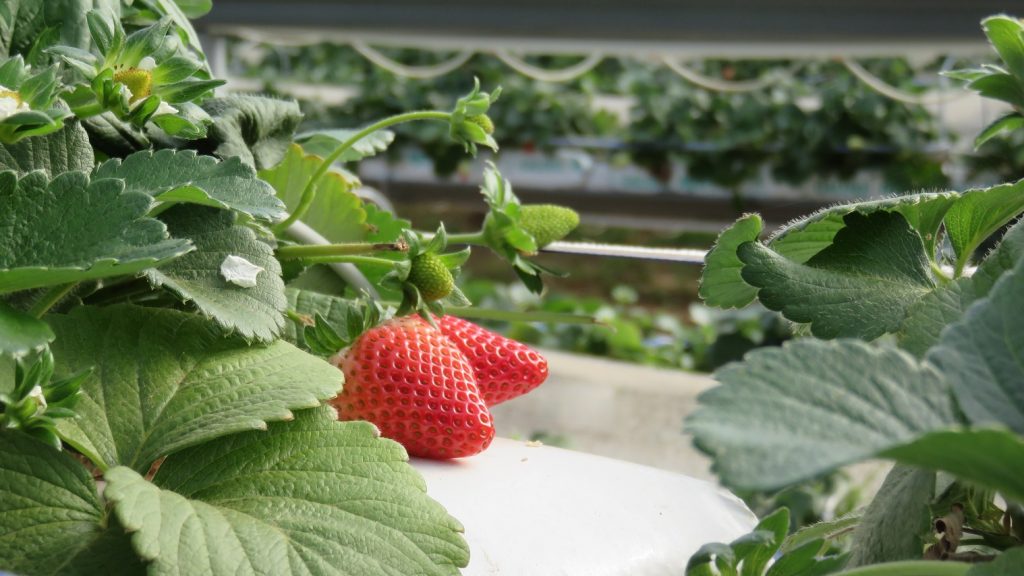 No grower wants to experience a tight labor supply or excess fruit in the market, but Australia's strawberry farmers are dealing with both these issues right now. It's a dynamic that coincides with the first commercial production of exclusive BerryWorld varieties for Piñata Farms, produced in large part under tunnels in substrate pots at bench height.
Piñata has just over a hectare of licensed berry varieties growing under this system at its farm in Wamuran, Queensland, and when you put together the infrastructure costs and the irrigation systems it all adds up to a significant capital outlay.
This might sound counterintuitive in a market where, as the company's managing director Gavin Scurr puts it, some supermarkets are promoting strawberries at prices "well below the cost of production".
"Yield is up 30% due to perfect growing conditions - the industry had Cyclone Debbie through Queensland in the back end of March which delayed planting...now they've all come on," Scurr tells Fresh Fruit Portal.
And that's across the board, rendering little differentiation gained from having tunnels this year with dry conditions conducive to heavy, good quality crops out in the fields.
"So July and August were very difficult with an oversupply of fruit. The fruit is eating fantastic but demand is not keeping up with supply at the moment, and hasn't done for the last month or so," the executive says.
He adds there are a lot more blueberries and raspberries on the market now too - a trend that's likely here to stay- and that brings added pressure to the strawberry category as some consumers "migrate" their purchases within the berry basket.
These are issues that would have occurred regardless of whether Piñata Farms moved into more expensive substrate production or new variety introduction, so Scurr chooses to look on the bright side - quality is excellent, underlying demand is good, and he reckons it's easier to get premiums in a saturated market than a tight one.
"It's probably good timing in some ways. Normal strawberries are that cheap - to get a good premium on not much is a lot easier than getting a small premium on something that's really expensive," he says.
"The feedback from consumers has been excellent, they've certainly noticed," he says of the berries, which are packed in slightly larger 350g punnets with the BerryWorld brand.
"Getting the premium hasn't been an issue for us at all; it's actually been getting enough of this variety to build a brand, to have a presence so that people who hear about them can actually go to the shop and buy them."
He says the BerryWorld-branded packs are now sold in 50 stores throughout Queensland, mostly in the state's southeast but with some in the north.
"They're in nine stores out of the Townsville distribution center in north Queensland. So they put them in their better stores, their more affluent areas where they obviously hope to go better.
"It's still very much a trial to see what sort of premium consumers will consistently pay for them.
"Anything that's got a Piñata label is our public varieties so that's business as usual, and they're a fantastic eating strawberry as well. We pride ourselves on the flavor of our fruit, but the BerryWorld ones are just another step up again."
Click here for a photo gallery from the visit, or here for Fresh Fruit TV's interview with Gavin Scurr.
Learning the ropes with new cultivars, production methods
Scurr emphasizes the company isn't actually expanding its strawberry production, but adapting to a changing environment by trying something different.
One of the ideas behind growing in substrate is to get the strawberries "out of the soil".
"We're having some underlying disease issues in the soil; as time goes on we're losing chemicals that used to control those diseases so we're getting variable growth in the field," he says.
"If you look across the field they're nowhere near as uniform as they are in substrate.
"But the big driver for substrate for us is to try and reduce the labor content; if we can get them up on tables we're seeing about a 30% labor saving."
He says labor represents about half of Piñata's costs, so despite the capital outlay the new growing method is shaving about 15% off the total cost.
"And they're easier. They're all at bench height rather than down on the ground," he says.
"It makes a massive difference in how long you can actually do it [pick fruit]. There's a limit as to how long you can actually bend over and do all that stuff."
He says the majority of the fruit currently under trial is of the variety Patricia, bred out of BerryWorld's short-day program in Spain.
"We've brought the varieties to Australia and this is the first commercial crop. To bring strawberries into Australia it's two years in quarantine and then it takes another two years to propagate the plants up to get a couple of hectares," he says.
"Next year we could have 50 odd hectares if we wanted to; it's just about evaluating to see how they perform in our climate.
"As you can see they're in tunnels – they're a softer fruit so they don't handle the weather well at all – no variety do but these are extra soft so we're giving them the best treatment we've got," he says, adding there is the added option of misting from the tunnel ceiling when it gets hot to keep the plants cool.
The trial is not without its challenges though, whether it be in irrigation or pest management.
"It's got no buffer from a soil perspective so we've got to keep the water and nutrients up - when it's warm every 40 minutes, whereas in the field we only do it once a day. In here it's eight or nine times a day.
"We're actually using less water, we just put it on for less but regularly because it dries out.
"We're seeing increased insect pressure under here, particularly with thrips – it's nicer under here than it is out there so they're all migrating under here. We've taken the rain out of play, and dew and keeping the fruit dry – so we're fixing that quality issue but it comes with other issues."
He highlights growing strawberries in substrate is nothing new worldwide, but in Australia it isn't very common.
"We're not inventing the wheel here – we're just trying to adapt to our conditions," he says.
"We're trying to get superior genetics – flavor particularly is what we're chasing, so you get a nicer eating berry, and have it exclusively so we can create a premium strawberry in the Australian marketplace which to date no one's done yet."
The company takes a lot of care at the post-harvest level too, with an overall aim to get the fruit into cool conditions within 30 minutes of harvesting, and definitely no later than an hour.
Piñata also uses an automated system that weighs packed punnets as they pass along the conveyor belt, with an air jet that pushes them into a separate container if they weigh too little or too much.
"We do about eight million punnets a year so if each one weighs an extra 10 grams, that's an extra 80 [metric] tons. That's a lot of punnets."
Subscribe to our newsletter