NatureFresh launches OntarioRed tomato program to help "connect the dots"
Following on from its TOMZ and OhioRed lines, Canada-based NatureFresh farms has said it is taking its locally grown tomato program to 'new heights' with the launch of OntarioRed.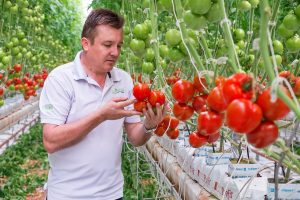 "Customers want consistency in what they buy", president Peter Quiring said in a release.
"Our mobile Greenhouse Education Center is helping tell the story of how we grow our vegetables but that only goes so far. When it comes to quality & flavor, we are making huge strides in the market with our TOMZ™ & OhioRed™ Program.
"With our greenhouse grown tomatoes from Leamington, ON we needed to take the same approach with our new OntarioRed™ Program. Same grower, same farm, from a brand you can trust. As a result, it helps us to connect the dots for our customers that we are the grower."
The OntarioRed program consists of Tomatoes On The Vine, Red Beefsteak, and Roma Tomatoes.
"A grower knows his plants but knows his tomatoes even better. When you purchase an OntarioRed™ Tomato, it's coming from the same grower every time," commented Isaac Braun, OntarioRed tomato grower, who oversees all three varieties.
The tomatoes will also be sold under the consumer promotion program established by the Ontario Ministry of Agriculture, Food and Rural Affairs called Foodland Ontario.
The program says nine out of 10 principal grocery shoppers in Ontario recognize the Foodland Ontario logo.
"Foodland Ontario is an important promotional program that recognizes locally grown vegetables. As a trusted fresh produce brand, growers like NatureFresh™ Farms can benefit from participating in Foodland Ontario programs that promote Ontario grown tomatoes", marketing director Chris Veillon said.
New distribution center
In April the company announced it had broken ground on a new 106,000 sq.ft distribution center in Leamington, with construction expected to be completed by mid-summer.
"The continued expansion of our operations & launch of new products is a direct result of the growth of the NatureFresh™ Farms brand", said Quiring.
"Over the last few years, we have increased our production capacity to meet the demands of our retail partners. Our commitment to quality, regardless of season, is enabling NatureFresh™ Farms to be an integrated supplier 12 months a year."
The addition of the new facility will complement the existing 5 distribution centers that are currently operational across the company's 130 acres in Leamington.
NatureFresh also opened a 60,000 sq.ft facility in Toledo, Ohio, in Fall 2016 to service the new 45 acres of greenhouse tomato production in Delta.
Subscribe to our newsletter