Wonderful expects new seedless lemon brand to be a category disruptor
July 31 , 2019
The Wonderful Company expects its soon-to-launch seedless lemon brand to be a category disruptor, anticipating it will both drive growth and create a new premium segment in the North American lemon market.
Wonderful Seedless Lemons are due to become available at U.S. and Canadian retailers this fall. They come in response to what has been found to be a significant market need.
Speaking to FreshFruitPortal.com, senior vice president of marketing Adam Cooper said he anticipated the brand would see similar success to the California-headquartered company's other highly successful produce brands like Wonderful Halos and Wonderful Pistachios.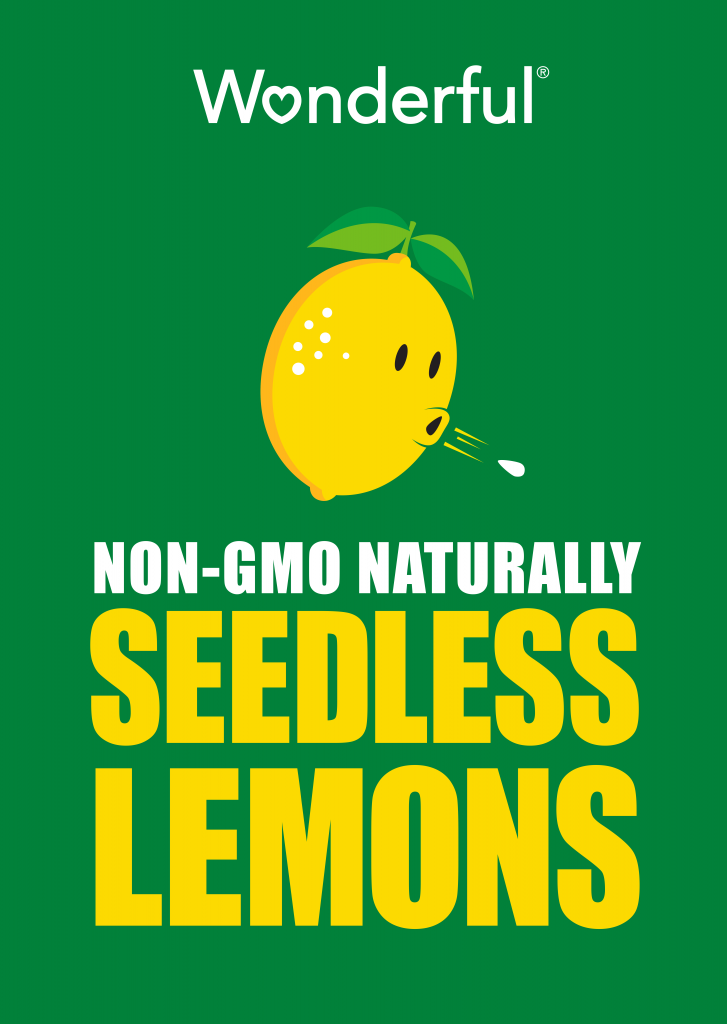 "We're very excited about Wonderful Seedless Lemons," he said. "We think it's going to be the next Wonderful brand that disrupts the category."
He added that the company has done consumer research that shows lemon buyers dislike seeds in their lemons - "a lot".
"We know that from our research they're willing to pay a premium, and we believe that through our high-quality standards and our marketing expertise we'll be able to create a great brand with Wonderful Seedless Lemons," he said.
The naturally seedless variety was discovered by a farmer in Australia. Wonderful has partnered with that farmer to secure the North American production and marketing rights.
California and Mexico to create year-round seedless lemon supply
The trees have now been in the ground in for a few years, with the first limited supplies to be harvested in the coming months. Fruit during the first season will come from California from October through June, but over time Wonderful plans to fill that gap with fruit from its Mexican orchards to create a year-round supply.
Consumer feedback prior to the launch has given the company good reason to have high hopes for the brand.
"We know lemons have been one of the hottest categories, certainly within citrus, and across all of produce," Cooper said. "Over 60% of U.S. households buy lemons throughout the year, and when we talk to lemon buyers, over 80% say they're likely to buy Wonderful Seedless Lemons."
Consumers frequently described seeds in regular lemons as being highly inconvenient, he said. What's more, a large proportion of people are willing to pay a substantial premium.
"I think in a lot of ways this is a new variety that's really going to disrupt the lemon category in a similar way to many years ago when mandarins disrupted the snacking part of the citrus category," he said.
"Over time they certainly took share away from oranges and even grew the overall snacking citrus category because of a great new benefit - in that case being seedless, sweet and easy to peel, which are obviously major differentiators."
He described the seedless characteristic as a "tremendous, unique selling proposition" of the Wonderful Seedless Lemons, saying it will be a major differentiator that helps to create a lot of demand within the lemon category and a lot of premium demand.
"We see this as becoming a very big brand within the Wonderful family," he said.
Developing a year-round supply for Wonderful Halos
One of the most successful brands within the family is the Wonderful Halos; it is the seedless mandarin category leader with over a 50% market share in the U.S.
Cooper explained the 2018-19 season saw a major increase in overall supply. The company continued to drive demand through maintaining high quality, building its programs, and investing heavily in marketing.
"We still think our marketing is resonating with consumers," he said. "We're recognized as the most loved brand among parents across all of produce and even among healthy snacking."
Wonderful spends tens of millions of dollars on marketing its Halos every year. This past season it shipped over 20,000 point-of-sales displays to retailers, helping to drive incremental sales.
Although the majority of Halos are grown in California and Mexico, last year Wonderful brought up Southern Hemisphere fruit. The ultimate aim is to bridge the late-summer and early-fall supply gap.
"We saw success with bringing up the Southern Hemisphere fruit. What we did was prioritize the highest quality fruit which went into the Halos label," he said.
Last year mandarins were imported from South America, Australia and South Africa.
"This year we're going to expand that program. We're still focused on the back half of summer and into-the-fall varieties. We're very very focused on quality and making sure only the highest quality mandarins go into the Halos-branded package. We'll continue to take our time to grow that program to make sure that it's going right."
Subscribe to our newsletter