Divine Flavor and Sun World collaborating to deliver premium table grapes to the U.S. market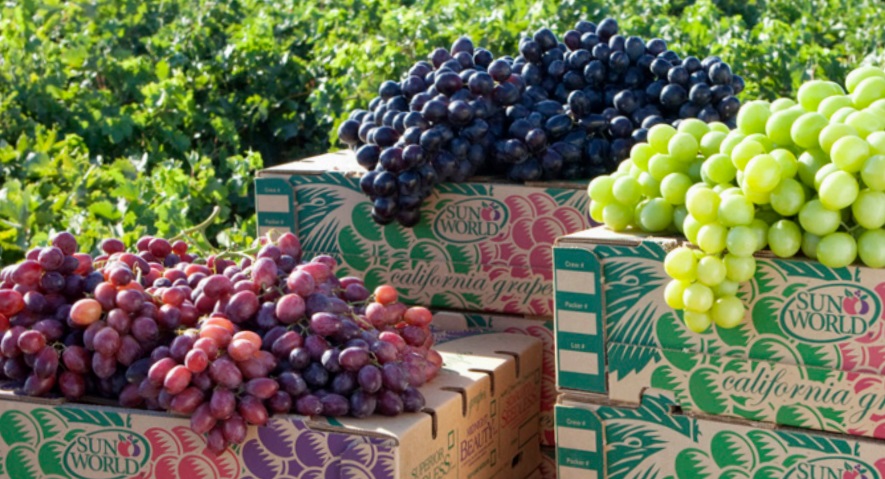 Mexico-based Grupo Alta has announced that Divine Flavor and Sun World International have executed an enhanced collaboration agreement to deliver premium table grapes to North American markets at strategic times of the year, bolstering volume for key holiday timeframes.
The collaboration agreement will bring more than 3 million boxes of Mexico-grown table grapes to market, supplying South American products during the months of Dec.-May with Sun World's premium green seedless, Autumncrisp branded, grapes being the primary focus.
The collaboration agreement was signed in Hermosillo, Mexico at the offices of Grupo Alta, where David Marguleas, CEO of Sun World, was joined by Alan Aguirre, President and CEO of Grupo Alta/Divine Flavor, Carlos Bon, VP of Sales for Divine Flavor, alongside Petri van de Merwe, Global Licensing Director for Sun World, and various other members of the companies.
Two of the principal aims of the agreement are to ensure consistent and promotable supplies of Autumuncrisp brand grapes for North American retailers and to introduce several promising early-ripening varieties for production in the chief growing regions of Sonora, Mexico. The two companies aim to reshape the Mexican table grape industry, Marguleas and Aguirre said in a statement.
"We are ecstatic about being able to supply more volume of an excellent grape such as Autumuncrisp and expanding its availability at key times of the year," said Carlos Bon, VP of Sales for Divine Flavor.
The agreement will contribute significantly to the South American import deal, but a cornerstone of the strategic agreement also involves Grupo Alta's newer vineyard in Jalisco, Don Mario, which produces grapes from the end of March to mid-May, as well as various parts of Sonora during the traditional Mexican table grape season.
Speaking with Marguleas, he explains how and why this collaboration unfolded, but also, his enthusiasm for both companies moving forward.
Marguleas noted, "This strategic collaboration agreement between Sun World and Grupo Alta/Divine Flavor will result in expanded access to commercial volumes of new and superior Sun World grape varieties for discerning retailers and consumers throughout North America at important times of the year."
For twenty years, Marguleas and Aguirre have been exploring opportunities to bring new table grape and stone fruit varieties to Mexico. During that time, Sun World and Grupo Alta have worked together closely to trial new fruit varieties for adaptation to farms in Sonora and more recently in Jalisco, Mexico.
"Together, over the past two decades, we have trialed new fruit varieties, gained insights into our companies, and delivered several important new Sun World-bred table grapes to customers around the world.
We are especially encouraged by Grupo Alta's expanded supply of Autumuncrisp brand grapes during the underserved April-May market window as well as the bold footprint they have established on their own farms and with affiliated producers throughout Sonora where several promising new Sun World varieties are being trialed", said Marguleas.
During the signing ceremony, the two companies announced plans for replacing older varieties with newer ones, including several red seedless varieties which will eventually replace the Flame seedless.
Bon notes that the company is constantly searching for the best varieties to grow, and they have aggressive plans to stay one step ahead when it comes to supplying newer varieties.
"Divine Flavor and Grupo Alta have excellent relationships with first-class breeders around the world and this gave us the opportunity to trial certain varieties which we believe are the future of the grape industry.
Autumncrisp brand grapes have proven to be a clear winner as the premium green seedless in the marketplace due to its outstanding flavor, proper aesthetics, and its ability to provide consumers with a great eating experience," said Bon.
"Being able to provide this premium grape variety during critical windows of the year, when no other grape company has, will be a major game changer for Divine Flavor and our grower family, that is exactly what this collaboration agreement with Sun World entails," Bon continued.
Aguirre believes that an agreement such as this one is a career-defining moment that will have a meaningful impact on both Divine Flavor/Grupo Alta and Sun World companies.
"This collaboration agreement between our companies is a major milestone for all of us," said Aguirre.
"I'm very thankful to know David, and we are very grateful he considered Grupo Alta for this opportunity to grow more premium grape varieties which we know will impress our retailers and consumers around the world. Our journey started in 2006 and it has taken a lot of work on all sides—Sun World finding the best varieties to grow, Grupo Alta as the grower, and Divine Flavor as the marketer. I'm proud and humbled to be a part of it."
Subscribe to our newsletter